[Written by Don Burgess]
Flora Duffy had the best ever finish by a Bermudian in an Olympic triathlon when she crossed the line in 8th today.
The top 10 finish marked the end to two previous disappointing Olympics by Duffy where she did not finish in Beijing and was down in the pack in London.
Overwhelming favorite Gwen Jorgensen of the US easily won the women's triathlon when she sprinted away from defending champ Nicola Spirig of Switzerland.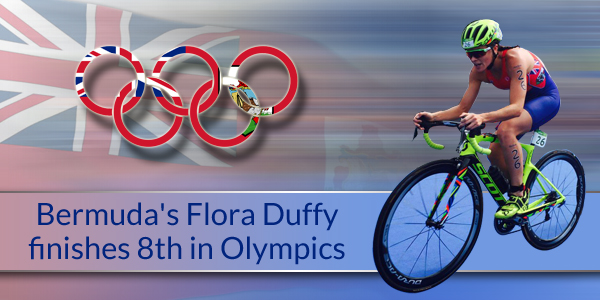 Duffy was 2:09 minutes behind Jorgensen, 1:32 behind Spirig and 85 seconds behind Great Britain's Vicky Holland for bronze.
Coming out of the water, Duffy was in 11th place but a quick transition to the bike saw her move up to fourth, just four seconds off the lead.
The eight torturous laps on the bike saw her take the lead at several points as she rode with a front pack of 18 cyclists. In Duffy's wins in Montreal and Stockholm she was able to make a breakaway on the bike to get some distance from the strong runners but was unable to do so in Rio.
Flora's family was in Rio to cheer her on and showcase Bermuda pride:
She was in seventh at the end of the bike, barely a second behind Lisa Norden of Sweden, and had the same time as eventual winner Jorgensen.
The transition from the bike to the run saw Duffy lose a few seconds as South Africa's Mari Rabie briefly went to the front followed by Spirig and Emma Moffatt of Australia. Duffy slipped to 12th, down seven seconds.
Coach Neal Henderson speaks with Patrick Singleton prior to this morning's race:
As the run began in earnest, Jorgensen and Spirig had a spirited shoulder-to-shoulder battle for gold and silver as they immediately put distance on the rest of the pack.
Duffy had a good run and was able to move up to ninth quickly and was able to then reel in Claudia Rivas of Mexico for eighth. Bars were packed full of spectators cheering on Duffy during her Olympic race.
Duffy's eighth place finish was the first top 10 Olympic showing for Bermuda since Peter Bromby and Lee White were eighth at the 2004 Athens' Games in sailing. They were also fourth at the 2000 Olympics.
List of Bermuda Top 10 Olympic finishes
3rd – Clarence Hill, men's heavyweight boxing, bronze, 1976
4th – Peter Bromby with Lee White, star class sailing, 2000
5th – Kirk Cooper with Eugene 'Penny' Simmons and Conrad Soares, 1964
5th – Robert Burgess, men's light-heavyweight boxing 1976
5th – Alan Burland with Chris Nash, sailing, 1984
5th – Clarence 'Nicky' Saunders, high jump, 1988
5th – Brian Wellman, triple jump, 1992
6th – Brian Wellman, triple jump, 1996
8th – Peter Bromby with Lee White, star class sailing, 2004
8th – Flora Duffy, triathlon, 2016
9th – Mike Sharpe, Dennis Trott, Calvin Dill and Gregory Simons, Men's 4 x 100m relay, 1976
9th – Quinn Paynter, men's light-middleweight boxing, 1988
10th – Francis 'Goose' Gosling, diving, 1948

Read More About