Bermuda will host the Caribbean's next top hospitality and tourism investment conference, bringing to the island hotel owners, operators, associations, developers, investors and lenders.
Tourism, Transport and Municipalities Minister Michael Fahy has just returned from leading a Bermuda delegation to the 6th Caribbean Hotel Investment Conference & Operations Summit [CHICOS] in San Juan, Puerto Rico.
"The event will be held next year in Bermuda, facilitated through a bid proposal by the Bermuda Tourism Authority. It will attract financial advisors, investment bankers, hotel architects, designers and planners together with hotel chain and management company executives," the Ministry said.
"Senator Fahy said tourism, planning and investment officials from the government agencies of several different countries are also expected to attend.
Minister Fahy is pictured with the Bermuda delegation in Puerto Rico. He is flanked [from left] by Kyle James, Business Manager of the Bermuda Tourism Authority, Permanent Secretary of the Ministry of Tourism, Transport and Municipalities Randy Rochester and Chief Investment Officer of the BTA Andy Burrows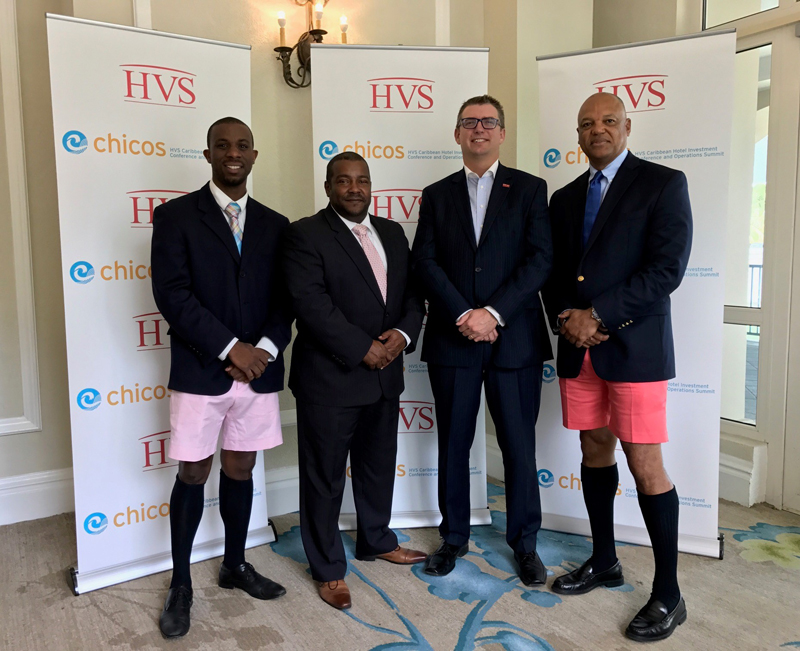 "The Minister reported to the conference the substantial tourism development currently underway, and already completed in Bermuda, including the $100-million-investment at the Hamilton Princess Hotel and the infrastructure developments for the Loren Hotel at Pink Beach, the Azura at the old Surfside, upgrades at Rosewood at Tucker's Point, the St. Regis in St George's and the Ritz Reserve at Morgan's Point.
"The Minister touched on the incentive packages being offered to encourage new development and the need to continue to expand what Bermuda offers to the market, noting island efforts to cut red tape."
"He was speaking during a panel discussion on tourism policies and best practices in which he was joined by Ministers of Jamaica and Bahamas. Other panelists included representatives from Puerto Rico and Curacao.
"Senator Fahy commented on how Bermuda air arrivals were up 14 percent including a double digit growth in visitors under 45 and how hotel occupancy had climbed seven percent."
Returning to the island with news that CHICOS will be held in Bermuda next November, the Minister said, "This event could bring some 300 high level delegates here. This past week we've had a variety of discussions with potential brands. It is clear that major players recognize Bermuda is undergoing a tourism renaissance and that we are back on the map.
"We are no longer the destination of nostalgia, but are well positioned to expand our luxury branding and differentiate ourselves from the Caribbean."
During the event, the Bermuda delegation released a new video about tourism investment in Bermuda, which can be seen below.

Read More About