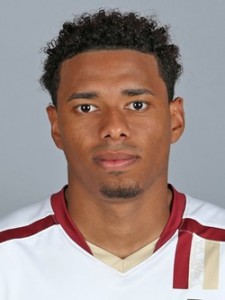 Zeiko Lewis scored again for his college team in a recent 1-0 victory, with all four Boston College goals this postseason scored by the Bermudian footballer.
The school's match report said, "Senior Zeiko Lewis scored his fourth goal in this postseason in the 82nd minute for the lone goal of the match.
"Lewis has scored all four Boston College goals this postseason – tonight's strike and three in the ACC Championship.
"Sophomore Simon Enstrom provided the assist on the game-winner. Sophomore Cedric Saladin made two saves in goal for his seventh shutout of the season.
"The Eagles held an 18-7 advantage in shots, including an 8-1 difference in the first half.
"Enstrom made a nice run on the right side and then found Lewis in the box in the 82nd minute for the 1-0 lead. Boston College controlled the pace for the entirety of the first half but couldn't find the net.
"Five of those shots were on target, but Fordham keeper Rashid Nuhu made four saves in the first 11 minutes to keep BC at bay. He had 10 total in the match.
"Enstrom saw his first action at the start of the second half and made an immediate impact. The Eagles had their best chance of the night 1:03 after the whistle when he took a shot from the right side, but it was saved.
"Lewis finally struck for the Eagles in the 82nd minute to give BC the 1-0 lead.
"The Rams almost equalized it 46 seconds later after a corner kick, as a scramble in the box got to Eric Ohlendorf. He fired a shot, but junior Mohammed Moro was on the line and made the save to preserve the lead."
Boston College will travel to No. 21 Albany on Sunday for the second round of the 2016 NCAA Men's Soccer Championship.

Following the 1-0 win over Fordham, head coach Ed Kelly and Zeiko Lewis discussed the win:

Read More About