The Peace and Social Justice Ministry of the Roman Catholic Church is inviting the public to attend a screening of the film 'Terra' on January 20, taking place at 7.00pm at St. Theresa's church hall.
Committee Chairperson Joanne Wohlmuth said, "In June 2015 Pope Francis published his second encyclical "Lautado Si" subtitled "Care for our Common Home", which made reference to all matters relating to the environment and our need as a social justice imperative to care for God's creation.
"Pope Francis makes reference to St. Francis of Assisi, the Christian mystic who called flowers, trees etc by the name of "brother" or "sister"; and, his disciple, St. Bonaventure who said God's Being is One and All-inclusive, Eternal and "most present, whose center is everywhere and whose circumference is nowhere".
"With such an appreciation for cosmology and the DNA of God in all things, Pope Francis warns us, "If we destroy creation, creation will destroy us."
"On January 1st, 2017, the Guardian had this to say about Pope Francis and his passion for environmental issues, "Global poverty, global greed and destruction of the environment are what threaten us today and…Pope Francis is a champion of humanity against these evils."
"With the above in mind our committee will now embark on a new series, this time a film/discussion series about the environment with respect and regard for Laudato Si.
The series promises to be provocative, soul searching and sobering, all at the same time; and, is meant to grip us in our stupor and shake us to the reality that everything belongs, is interconnected, such like when John Muir says, "when we try to pick out anything by itself , we find it hitched to everything else in the Universe."
"In addition to raising awareness our "Coming Home Series" as we are calling it, is meant to invite us to take both individual and community steps to improve our relationship with our planet earth and all of those who live with us here, this which we call Home.
Our first film in the series is called Terra, a gripping and thought provoking documentary about our relationship as humans to all other species of the earth. The film will view on January 20 commencing at 7pm at St. Theresa's church hall.
"It will be followed by a facilitated discussion. All are welcome. Refreshments will be served. This event is a free public event.
"The next film in the series will be in February, 2017."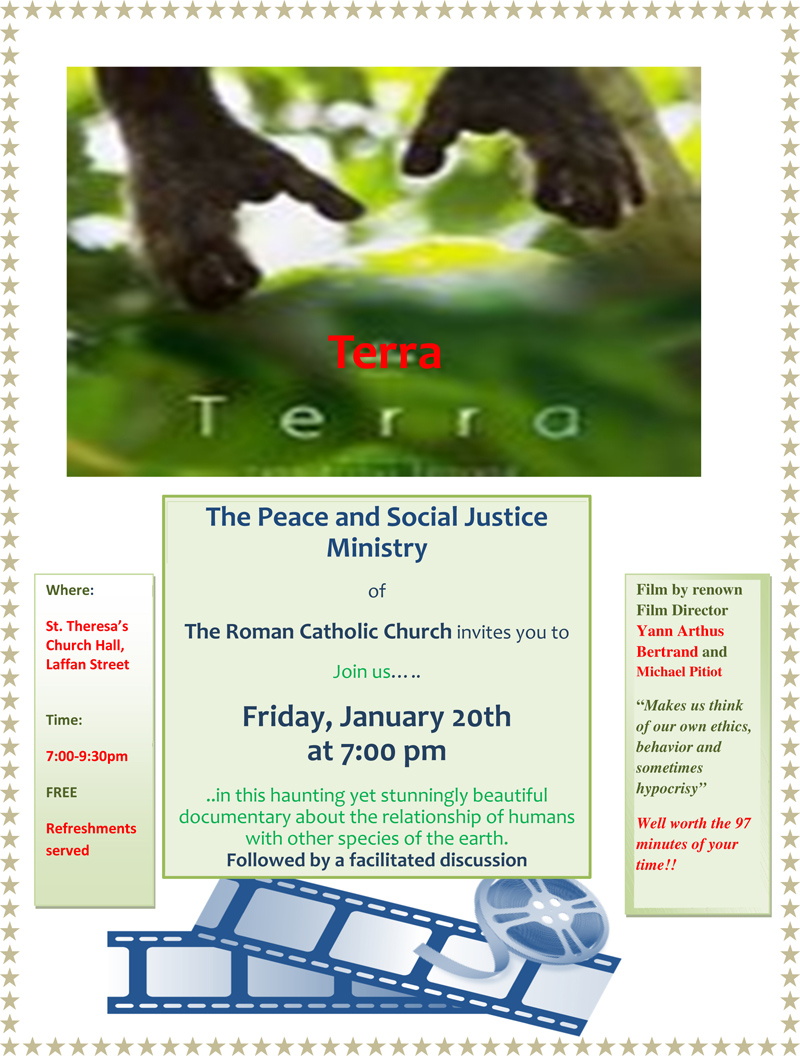 Read More About
Category: All, Entertainment, Films/Movies