[Opinion column written by Glenn Fubler]
The fact that our Island has been able to move through the impasse over the 'Airport Project' in a way that was both peaceful and implied a reasonable degree of mutual respect – in spite of those differences – represents something of a milestone.
To me, this marks a level of maturation in our relationships as a diverse society and is evidence of an acceptance that even close families will have differences on even mundane matters.
I don't believe any government project in our past, has been so extensively reviewed, as this one. There have been numerous forums, town-hall meetings and reviews on whether the unique approach for the project was in the best interests of the Island.
It seems to me that there has been a shift in our community, regarding this project and this has been due to a variety of factors; including, the findings of the Blue Ribbon Panel.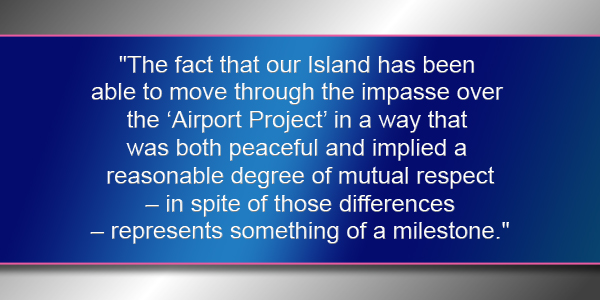 There were those who questioned the Panel's objectivity, since it was appointed by the Government. However, the individuals who composed the Panel have a track-record of integrity. They are persons who have demonstrated a great degree of independence over the years; individuals whose skill and experience, spoke for itself.
The conclusions of the Panel were only published last Wednesday and one wondered, if their findings would have reached the wider community. However, in this age of online media, the public have ready access to their Press Conference tape.
While a recently published opinion poll suggested a major shift of opinion regarding the Airport Project, it was challenged as being 'biased'.
However, there was other evidence of change. This was graphically demonstrated in the response of the membership of the Bermuda Industrial Union to the call of their President – Chris Furbert – to protest at the House of Parliament on Friday.
When less than 200 of the total membership of 2,500 or so, turned up at Union Square it was evident that members and others were voting on the matter 'with their feet'. In his wisdom – knowing when to hold them; when to fold them and when to walk away – Chris sent those in attendance, back to work.
This outcome represents something of a milestone in that the membership was exercising their independence. As Steven Covey pointed out – in 7 Habits- that retaining a sense of independence is vital for successful persons.
In an organization as large as the BIU, it is difficult to assess the wishes of the whole, so the union relies on their General Council which is made of around 50 or so representatives from the various divisions – which is only 2% of the membership. [This may speak to large organizations such as union, exploring the use of on-line means of opening conversations on key issues]
That said, it is clear that any society benefits when its citizens are prepared to 'think for themselves'. History is littered with evidence of when people 'follow blindly'.
Covey reminds us that when people are 'independent' they can be best able to be 'interdependent'; meaning that out of that clear sense of self, only then can one have the capacity to act in true solidarity with others. I know all of us have had those personal victories in our past when we refused to just 'go along with the crowd'.
In this age of 'Trump', this factor becomes even more important. It will be more important that matters of public interest be considered with the utmost of careful reflection, by all of us.
In this mode, we can accept having differences in perspective on matters, with others who may not be 'on our team'. However, with a mindful approach we will be able to avoid being caught up in an emotional reaction to matters and respond to circumstances in ways that consider the big picture.
I believe that the fact that we have been able to handle the challenges around the Airport Project, demonstrates to Bermuda that we can achieve that goal.
- Glenn Fubler

20 Most Recent Opinion Columns

Opinion columns reflect the views of the writer, and not those of Bernews Ltd. To submit an Opinion Column/Letter to the Editor, please email info@bernews.com. Bernews welcomes submissions, and while there are no length restrictions, all columns must be signed by the writer's real name.
-

Read More About