Following their victory over Jamaica and Puerto Rico, Bermuda's Junior Davis Cup Team were narrowly defeated by number 3 seed Aruba, losing in the doubles match by a third set tiebreaker.
Tensions were high for Coach Mallory and his team, as the singles matches were split 1-1 and it all came down to the doubles match as the decider.
The day kicked off with singles matches. Tariq Simons matched up against Alexon Hessels of Aruba, where Simons lost 7-5, 6-3.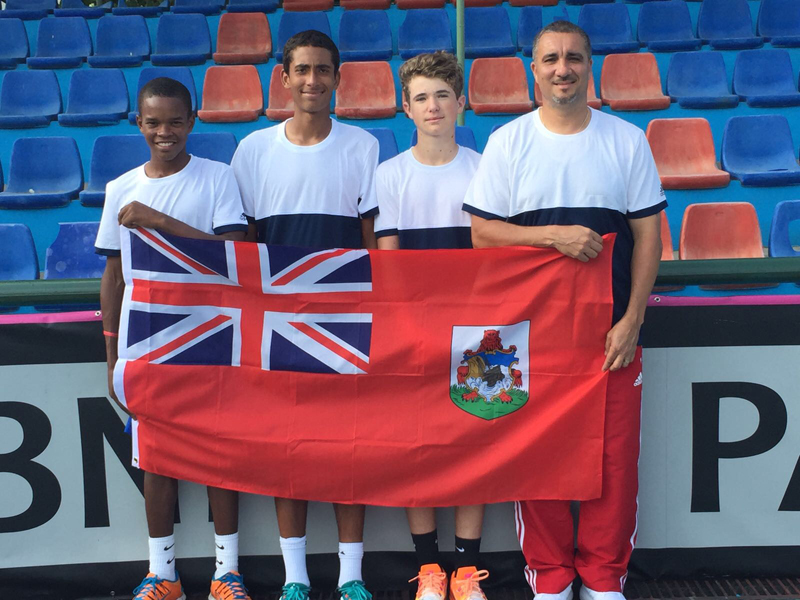 Trey Mallory then matched up against Frederick Sydow, a seasoned junior player on the ITF junior circuit.
Mallory opened up strong and blew his opponent away in the first set 6-1. Momentum changed in the second set Trey was tie at 3-3, dropped a game and was broken, Sydow went up 5-3 and looked close to winning the set. Mallory focused and fought back to win the second set 7-5, to clinch the singles match 6-1, 7-5 tying up the fixture and giving Bermuda a chance.
It all came down to the doubles to decide the outcome. Redmond teamed up with Mallory. The first set was a tough one, Bermuda worked hard but lost it 6-3. The team knew it was now or never and Coach Mallory said, "I told them to leave it all on the court, to dig deep and give it their all".
Redmond and Mallory came back to win the second set 6-4. The entire fixture was now to be decided on a tiebreak third set, and unfortunately points just didn't go Bermuda's way.
Coach Ricky Mallory said, "It was a hard pill to swallow, we lost 2-1 against Aruba 3rd seed, but we had a legitimate chance to win the fixture. Our team competed at their best, and pushed Aruba to their limits, it was anyone's match, and unfortunately we were not successful. '
The team will now meet Dominican Republic, where they will be fighting for a top 5 finishing spot.

Read More About