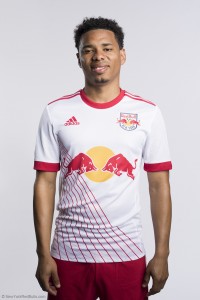 [Written by Nathan Carr]
It's been almost three months since Bermudian international Zeiko Lewis was recruited by New York Red Bulls at the MLS SuperDraft, and in an interview with Bernews, Lewis talks about settling into life in New York, that memorable SuperDraft speech and football culture back home in Bermuda.
"It's been a little bit of a journey," he tells Bernews. "It's been a little difficult, particularly being new to somewhere…finding a place, moving everything in. Now I've finally settled in, all my furniture is in, grocery shopping is going well. My parents have been very helpful and taught me a lot of stuff, such as how to do my taxes. It's been a fine transition and it's coming along nicely now."
Lewis was selected as the number 17 overall pick at the MLS SuperDraft held in Los Angeles in January. Every player has to make an acceptance speech upon selection, and Lewis' was rather memorable as he thanked Red Bulls for having faith in him by saying "at least somebody at this Draft does." He was temporarily a top trend on Twitter and some people even coined his speech 'Zeiko Lewis Independence Day'.
The diminutive midfielder has had time to reflect on his speech and insists that he's now moved on: "Every club has got their own needs that they need to fulfil. Honestly, I'm not offended by anybody. I didn't take it personally.
"I know it may have come off a little bitter but I promise you it wasn't bitter. I'm just thankful that the Red Bulls selected me and I'm going to do everything I can for the club to prove that I can make a difference. I'm just thankful to be here."
Has Lewis got a chip on his shoulder, though? A point to prove to those who might have doubted his ability in the past? It would appear that isn't top of his priority list, but rather the importance of making sacrifices for the team and that the collective is more important than the individual.
"Everyone's got criticisms," he explains. "At the end of the day, it's not about proving anybody wrong. It's just about making the club better and just doing everything I can for them. If they ask me to play left-back, I'll play left-back. If they ask me to sit on the bench, then I'll do it. I'm here for the team and not just myself. It's the whole 18."
The 21-year-old has been loaned to Red Bulls II, the club's United Soccer League affiliate team, who he scored for on his league debut in a 1-0 victory over Richmond Kickers. The manager John Wolyniec has the team set up in a 4-2-2-2 formation and Lewis has been playing either out wide or up top, depending on where the coach sees fit.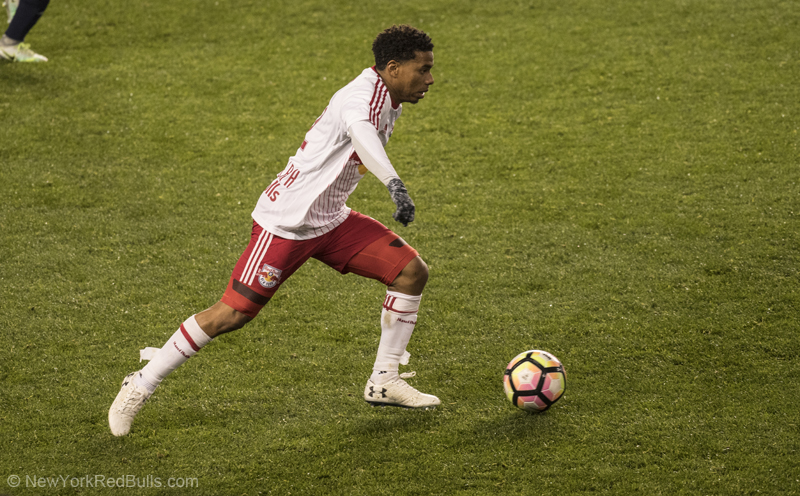 "My strongest attributes are definitely taking players on and creating chances which have helped me get to where I am today," he says. "But I've been focusing on other aspects of my game since I've been here."
Lewis hasn't been back to Bermuda since before the MLS Combine, which preluded the SuperDraft, but he will take every opportunity he can get to fly back home. He loves it back home and believes Bermuda is not only the best island in the region, but the entire world. He thinks a main reason why Bermuda produces so many talented footballers is because people begin playing the game so early on in their lives.
"We encourage people to play football from a very early age," he says. "It's a lifestyle for us. We pick it up from young in our backyards. Some of us get a chance that a lot of us wish we had. When we do get our chance, we make the most of it, or we try to make the most of it."
Khano Smith, a former Red Bulls player himself, recently told me that he sees no reason why the Gombey Warriors cannot qualify for their first CONCACAF Gold Cup in 2019, with the number of teams increasing from 12 to 16 an added incentive.
Lewis concurs with his fellow countryman: "We're a small island with 65,000 people. Obviously, everybody wants to play in a World Cup but the Gold Cup is a realistic target. We have always just been on the edge. Our youth academies are getting better, we've become better as a nation. I think in 2019 we will be on the brink."
- Sports journalist Nathan Carr is the founder of 'The Home of Caribbean Football' website and @caribbeanftbl Twitter feed, and reports on football throughout the region.

Read More About