TeamBDA, Bermuda's entry to the 2017 Red Bull Youth America's Cup, has announced its official merchandise is now on sale online [through both the TeamBDA and Bermuda Blueprinting websites], as well as in select stores.
"Supporters of the sailing team – which is made up of nine young Bermudians between the ages of 18 and 24 – are encouraged to purchase their favourite gear, including t-shirts, flags, caps, beach towels, water bottles and bags. They can then wear their wares to show their support for the team and to cheer them on during the competition from June 12 to 21," the team said.
"The first opportunity to view the products, and meet the team, will be this Wednesday, April 26, from 6-7pm at Liberty Theatre, when TeamBDA will host a meet and greet event. This is a chance to get to know Bermuda's team, ask questions, take pictures and hear the inspirational stories of these nine young Bermudians on a mission to represent their country on the world's stage.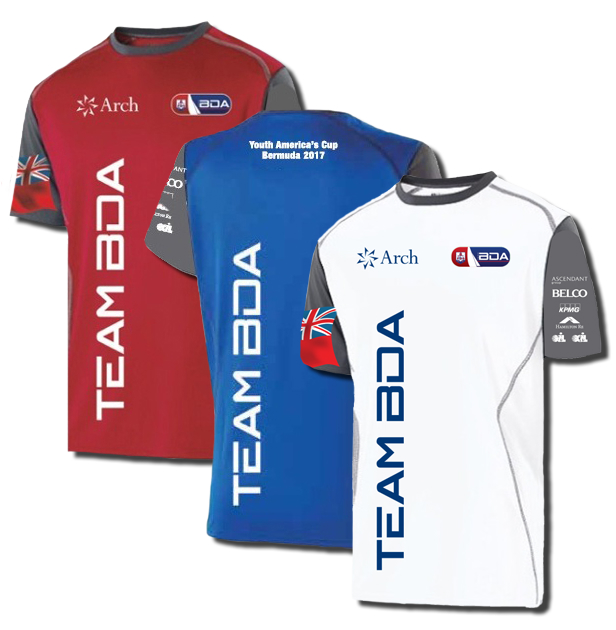 Laura Cutler, TeamBDA Team Manager, stated, "We're super excited that the TeamBDA gear is arriving at Bermuda Blueprinting this week.
"We hope to see everyone with something – as there are quite a few items to choose from, including: shorts, bags, hats, flags, etc. Our sailors are working hard in preparation for this incredible event, and it would be amazing to see our supporters in TeamBDA kit out in public and on the racecourse!"
Months ago, an idea was put forth to offer branded clothing and other items for TeamBDA in the lead up to this summer's big event.
According to Liana Carrick, Administrator at Bermuda Blueprinting, the suggestion was welcomed, but the competitors and management of TeamBDA were busy focusing on race preparation. Bermuda Blueprinting offered to take the reins, designing and managing details for the project.
Ms. Carrick explained, "Our in-house graphic designers created artwork mock-ups for TeamBDA approval and tech shirts, cotton t-shirts, dri-fit caps, beach towels, water bottles and bags were selected.
"The tech shirts come in the team colours of red, royal blue and white, while the line of bags carries through on this colour scheme with the team logo embroidered on sail fabric tote bags, backpacks, wristlets, wallets etc."
Ms. Carrick said Bermuda Blueprinting, and its sister company Island Embroidery, were "pleased" to be involved in the supply of branded merchandise for TeamBDA.
"The launch for pre-orders was April 10th through www.bdablue.com, and with the merchandise now available for collection. Hopefully Bermudians will show their support for their home team by embracing the TeamBDA name and purchasing their branded merchandise," she continued.
"A portion of the sale proceeds will go to TeamBDA, but more importantly a powerful message of support will be sent out that we stand behind our home team and believe Bermuda has earned its place in the Red Bull Youth America's Cup."
TeamBDA merchandise will also be available through AC Outfitters in Dockyard and the Island Tour Centre at Albouys Point. For more information visit www.acbda.bm

Read More About