OBA Chairperson Lynne Woolridge this evening announced that Patricia Gordon-Pamplin will be the interim Party Leader, and Sylvan Richards will be the interim Deputy Leader.
Ms. Woolridge said: "Following the resignation of former Leader, Michael Dunkley on Wednesday, July 19th, the elected OBA MPs met this evening and voted for the new interim Leader and interim Deputy Leader.
"I'm pleased to announce that our new interim Leader is Patricia Gordon-Pamplin and interim Deputy Leader is Sylvan Richards."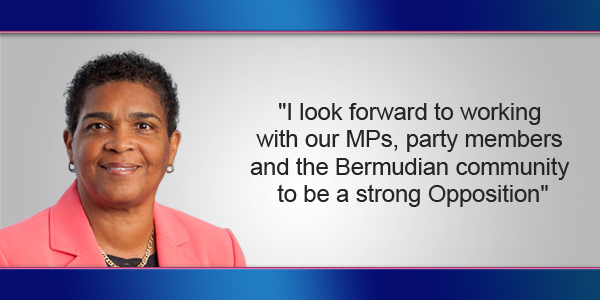 New interim Leader, Patricia Gordon-Pamplin said: "I look forward to working with our MPs, party members and the Bermudian community to be a strong Opposition. Our team will hold the new Government to account and ensure they are working in the best interests of all Bermudians."
The OBA added that Senators and a Shadow Cabinet "will be announced in due course."
Earlier this week, Mr Dunkley resigned as the leader of the One Bermuda Alliance, saying he "felt it was the right thing to do given the election result," adding that he "remains totally committed to helping the party."
His resignation followed after the PLP's major victory in the General Election, where they won 24 seats to the OBA's 12, and 20,059 votes [58.89%], compared to the OBA's 13,832 votes [40.61%].
The OBA now has 12 MPs in the 36 seat House of Assembly; Michael Dunkley, Sylvan Richards, Cole Simons, Trevor Moniz, Craig Cannonier, Jeanne Atherden, Susan Jackson, Dr Grant Gibbons, Patricia Gordon-Pamplin, Jeff Baron, Leah Scott, and Ben Smith.
Read More About