[Opinion column written by Michael Fahy]
Over a week ago, the Minister of Home Affairs, Walton Brown advised the Bermuda public that he would be introducing the Domestic Partnership Act 2017 following a 13 day period of consultation with stakeholders.
In short, the proposals will end the rights of same sex couples to enter in a marriage in Bermuda and will instead give all same sex and opposite sex couples the right to enter into a domestic partnership.
These proposals are eerily similar to the proposed Civil Union Act 2016 which was aimed solely at same sex couples. The latter bill was never voted upon following the failed referendum in respect of same sex marriage and civil unions in 2016.
As we all know the Supreme Court of Bermuda allowed same sex marriage in Bermuda, finding that the Registry General had discriminated against a same sex couple on the grounds of sexual orientation in failing to provide marriage services.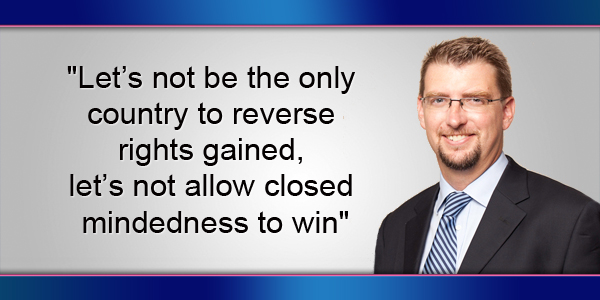 In my view that should be that. The Human Rights Act says clearly that no one can be discriminated against on the grounds of sexual orientation in the provision of services and the Supreme Court confirmed this.
So it is surprising to me that a political party that has the very word "progressive" in its name would introduce what is now a regressive step in trying to essentially reverse this judgment.
It is even more surprising that it is being introduced by Walton Brown, a self-professed advocate of human rights. Let's take a look at Walton Brown's record before he became a Minister on the very issue of gay rights and then by extension the issue of same sex marriage over the last eight years. It is clear that the views are progressive but this most recent action not so much.
On 7th July 2009, following his participation in a Gay Pride Parade in the UK, Walton Brown called on politicians from both parties to "do the right thing" in respect of a proposed bill to include sexual orientation as a ground of protection in the Human Rights Act. He went on to say "As far as I am concerned this is the right thing to do for Bermuda specifically, and in general. I do not understand any position taken by any church that is against removing a discriminatory practice. I don't know how anyone can interpret the Bible or the Koran in that way."
A year later, on 16th July 2010, in response to a poll that showed a majority of Bermudians against same sex marriage Walton Brown is quoted as saying "Bermuda has been a very conservative society. I would always like to see those figures higher but Bermuda has not yet reached the point where the overwhelming majority accepts that everybody should be treated equally before the law. Marriage is seen by a large number of people as being something between a man and a woman and it has many significant ramifications for society as a whole, and at some point we need to have a discussion about that. My position is we need to live in a society in which all people are treated equally."
Some ten months later, on 25th May 2011, Walton Brown penned a piece for the daily in which he said "We have not yet seen the courage to specifically set out sexual orientation as a protected category under the Human Rights Act. In the absence of this, there is no protection for gay, lesbian and transgender people against discrimination in the workplace, housing or in the delivery of services. There is an argument out there which posits that the Bermuda Constitution provides such protection without specifically mentioning sexual orientation and that there should be a test legal case to assert it. This is not good enough. If the Human Rights Act is to have meaning and applicability for all then change must begin here. Bermuda in the 21st century must first take this minimal step if we are to continue down the road to justice for all."
On 17th August 2012 it was reported that Walton Brown attended an open mic event about gay rights. Walton Brown was apparently the first to step up to the mic and said "It's really very simple. Anyone who has been victim of discrimination or oppression in any of its manifestations should not want to see discrimination or oppression against anyone else. The issue of sexual orientation strikes a sensitive chord among some sectors of the community. But the principle of respect applies in this area of sexual orientation just as they do in race, gender or religious freedom."
On 4th July 2014 Hansard recorded that Walton Brown sent congratulations to the participants in the Gay Pride Parade in Toronto.
On 8th July 2016 Walton Brown voted against Wayne Furbert's bill to outlaw same sex marriage. Hansard recorded the following in the debate:
"I cannot support any legislation which acts as an inhibitor to the further progression of rights. I know there is a sentiment out in the community which says Oh, these are not human rights. It is a contrived position. But, Madam Chair-man, every single society has seen the evolution of human rights over time. Every single community has seen that. What we take for granted today as human rights, certainly were not considered human rights 50 years ago or 100 years ago. So you cannot look at human rights as if it is some static concept. Who in this Parliament would want to bring back the death penalty because the public want it? Our responsibility is to lead. Our responsibility is to examine issues, debate issues, and decide whether or not we need to make appropriate amendments to make Bermuda a more just society.
Madam Chairman, I am hoping that we will have more Members speak on this issue. I know there is a lot of reticence on this issue. But we are elected to lead. Speak up! Articulate your position. We cannot pass this amendment. It is a retro-grade step. I see many Members having their moments of quiet reflection, Madam Chairman. But in those moments of quiet reflection I will say to them, think about what kind of a Bermuda do you want to create. What kind of Bermuda do you want to see when it comes to issues of human rights? Human rights are diverse. They are inclusive. We do not make headway by attacking others for their positions. But what we can do is try to provide more information, better information, so that Bermuda can move forward in the 21st century. I would encourage the Members not to sup-port this amendment."
When you examine all these comments, they do not "marry up" with what Walton Brown is now doing. I have no doubt that in his heart Walton Brown believes same sex marriage is what must happen. His historical comments demonstrate as much.
At the open forum he said this Domestic Partnership Act is a "compromise" since he said "there is little appetite in Parliament today for validating same-sex marriages." Well the referendum "result" showed there was little appetite for civil unions either! The proverbial horse has bolted and this compromise position, which perhaps was suitable a year ago, is no longer the way to go.
So instead of trying to find a supposed "compromise" on an issue that has already been decided upon by the Supreme Court I urge the Minister to follow his own words and lead! Let's not be the only country to reverse rights gained, let's not allow closed mindedness to win.
As he said "the principle of respect applies in this area of sexual orientation just as they do in race, gender or religious freedom." Lead Minister, lead.
- Michael Fahy is a former Senator and Minister of Home Affairs.

20 Most Recent Opinion Columns

Opinion columns reflect the views of the writer, and not those of Bernews Ltd. To submit an Opinion Column/Letter to the Editor, please email info@bernews.com. Bernews welcomes submissions, and while there are no length restrictions, all columns must be signed by the writer's real name.
-


Read More About