[Updated] "The Government's pledge to raise confidence, quality and investment in public education is being realized through the introduction and delivery of Plan 2022: Bermuda's Strategic Plan for Public School Education," Minister of Education and Workforce Development Diallo Rabain said.
Speaking in the House of Assembly today [Dec 1], Minister Rabain said, "It is this Government's belief that children and their future should be put first – that they should be the primary beneficiaries of a public education system that engenders confidence and trust. All children, regardless of parental income or social circumstances should have the advantages that a high-quality and culturally relevant education brings.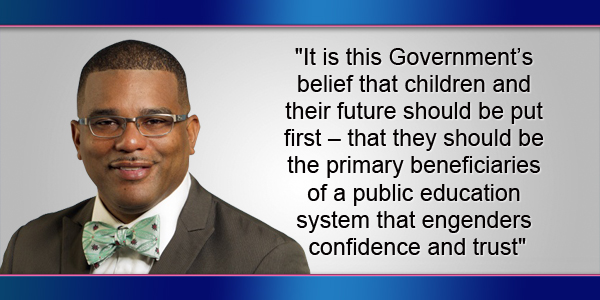 "Plan 2022 was written by a diverse team of community-members using research-informed best practices. The use of design-thinking meant that feedback numbering at least 3,000 pieces of information and data was used to shape and improve the plan over a period of ten months.
"In 2018, the Department of Education will commence the operationalization of the Plan. It will be a Plan with a life span of 5 years – 2018 to 2022. The plan is structured by five priority areas that have clear measurable and qualitative outcomes, and specific actions for delivery.
"We are diversifying options for students, especially those in the middle years so that they can focus on pathways meaningful to them, like technical and vocational education.
"Those students whose needs are high will receive better wraparound support so that they do not fall between the cracks or get left behind their peers. We will strengthen IT and improve school infrastructure. We will also bring forward fairer budgets so our children get the education that they need and deserve.
"Plan 2022 will not sit on the shelf. It will be a living, working document. The priorities; objectives, and key performance indicators will steer the direction of public school education in the years to come. "
The Minister's full statement follows below:
Mr. Speaker,

I rise this morning both pleased and excited to present to this House and the general public: Plan 2022 – a multi-year Strategic Plan for the Bermuda Public School System.

Mr. Speaker,

It is this Government's belief that children and their future should be put first – that they should be the primary beneficiaries of a public education system that engenders confidence and trust. All children, regardless of parental income or social circumstances should have the advantages that a high-quality and culturally relevant education brings.

Mr. Speaker,

Our beliefs about children and their value in society inform our actions. Our children deserve consistency, coherence, and adaptation. This is why prior to being elected, this Government committed to review and implement the recommendations of the strategic plan for public school education. We know that our children deserve better than what they have been provided in the past. They, along with their parents, educators and others in the community deserve to have an achievable and optimistic plan for public education.

Mr. Speaker,

Today, the Government's pledge to raise confidence, quality and investment in public education is being realized through the introduction and delivery of Plan 2022: Bermuda's Strategic Plan for Public School Education.

Guided by the core values of transparency, inclusivity, and engagement, this plan was community-driven and community-owned. It was written by our very own Bermudians who have expressed and shared their vision for public school education. This approach was taken to reflect the aspirations of the community, and to help insulate the plan from the ups and downs, and waves of change that have plagued public education for decades.

Mr. Speaker

This Government is so committed to this community-driven approach, to ensure all stakeholders were given a chance to comment, additional community engagement sessions were arranged in September. It is of paramount importance to get this Strategic Plan right, so this Government's decision to delay the final report pending more unscheduled consultation sessions, demonstrates this commitment to our children and our country.

Mr. Speaker,

Plan 2022 was written by a diverse team of community-members using research-informed best practices. The use of design-thinking meant that feedback numbering at least 3,000 pieces of information and data was used to shape and improve the plan over a period of ten months.

In 2018, the Department of Education will commence the operationalization of the Plan. It will be a Plan with a life span of 5 years – 2018 to 2022. The plan is structured by five priority areas that have clear measurable and qualitative outcomes, and specific actions for delivery.

The priority areas are:

i. Increasing Academic Rigour and Student Engagement by providing a diverse and differentiated curriculum that pushes students to their learning edges and connects to their many and varied interests;

ii. Ensuring Career, College, and Workforce Readiness by integrating academic and vocational training into a comprehensive and seamless system of training and support which begins early in the educational years of our youth;

iii. Enhancing the Quality of Teacher Practice and System Leadership in order to have a sustained and transformative impact on the academic achievement of young people;

iv. Improving Infrastructure and Instructional Resources so that students are taught in well-maintained, clean, healthy and modern facilities and are exposed to cutting-edge technological tools in preparation for participation in a global economy; and

v. Ensuring System Success so that the Bermuda Public School System looks beyond teaching and learning to ensure that policy, governance and operational systems are in place to enable the success of both students and teachers.

Mr. Speaker,

Plan 2022 will be the driving force to ensure that the Board of Education, the Ministry and the Department of Education, inclusive of the Child Development Programme and all schools focus on the entire public education system, from birth to graduation so that "all students are educated to lead personally and professionally, compete locally and contribute globally."

Mr. Speaker that is the new vision for our public school system; and to ensure we understand the importance, I wish to repeat it for my honorable colleagues and the listening public: "all students are educated to lead personally and professionally, compete locally and contribute globally." That is what the community envisions for our public school students.

Mr. Speaker,

We are diversifying options for students, especially those in the middle years so that they can focus on pathways meaningful to them, like technical and vocational education. Those students whose needs are high will receive better wraparound support so that they do not fall between the cracks or get left behind their peers. We will strengthen IT and improve school infrastructure. We will also bring forward fairer budgets so our children get the education that they need and deserve.

Mr. Speaker,

I believe strongly in a framework for accountability so that it is clear what needs to be done, when and by whom, and of course with fidelity. Therefore, the Department of Education will be working on delivery plans during the month of December so that the first roll out of the Strategic Plan can start in January 2018. This focus on delivery is a reflection of considerable feedback from our stakeholders. The guiding principles from the planning process are synonymous with those of the delivery process. Therefore, we commit to continued transparency, regular communication to the general public on the execution of the plan, and engagement with the community as the strategy is translated into action.

Mr. Speaker,

Plan 2022 will not sit on the shelf. It will be a living, working document. The priorities; objectives, and key performance indicators will steer the direction of public school education in the years to come. Mr. Speaker, every educational programme and service delivered in our public school system must align with the direction of the strategic plan.

Mr. Speaker,

There are so many people to thank who contributed to the development of and ensuring the completion of Plan 2022. These individuals include first and foremost Mr. Curtis Dickinson, Chairman of the Board of Education, and all members of the Board of Education, the Ambassador Design Team that comprised of 34 persons who sacrificed evenings and weekends to write the plan, the Strategic Review Team that comprised of 48 persons who also sacrificed many evenings reviewing successive prototypes of the plan.

Mr. Speaker,

We are indebted to all of the students, parents, educators and other community members who invested their time and intellectual capital through feedback into the plan; to Dr. Jeremiah Newell who helped to facilitate the development of the plan; and finally to Ms. Lisa Smith of the Ministry of Education who individually spent hundreds of hours during the days, evenings and weekends working as the architect planning, organizing and designing the direction of the strategic planning process. As a result, today we have the final product delivered in hand and at the point where we can commence the execution phase.

Mr. Speaker,

I am very proud of Plan 2022 and the commitment that this Government is making to fellow Bermudians – especially to our children, their families, our educators, and all advocates and friends of public school education. This plan is a reflection that they are valued and respected members of community who were empowered to help transform our public education system for our children and their futures.

Mr. Speaker,

You will recall from the Government's Throne Speech delivered in September, this Government pledged to ensure the Strategic Plan for our Public Education System would be completed and in place by September 2018. One again, Mr. Speaker, Promise made, Promise kept.

Mr. Speaker,

I encourage my honorable colleagues and the general public to read through Plan 2022 which will be posted on the Ministry of Education website www.moed.bm.

Thank you – Mr. Speaker
Update 3.25pm: The Strategic Plan for Public School Education follows below [PDF here]

Read More About