Fairmont Southampton hosted a welcome reception on Thursday [July 12] for summer students that have taken up various roles around the hotel.
A spokesperson said, "Fairmont Southampton have hired 20 students for the summer this year. Every year we hire summer students in various roles around the hotel, but this year we decided to re-amp our Student Work Experience Program [SWEP], allowing us to bring in more students than we've had in recent years.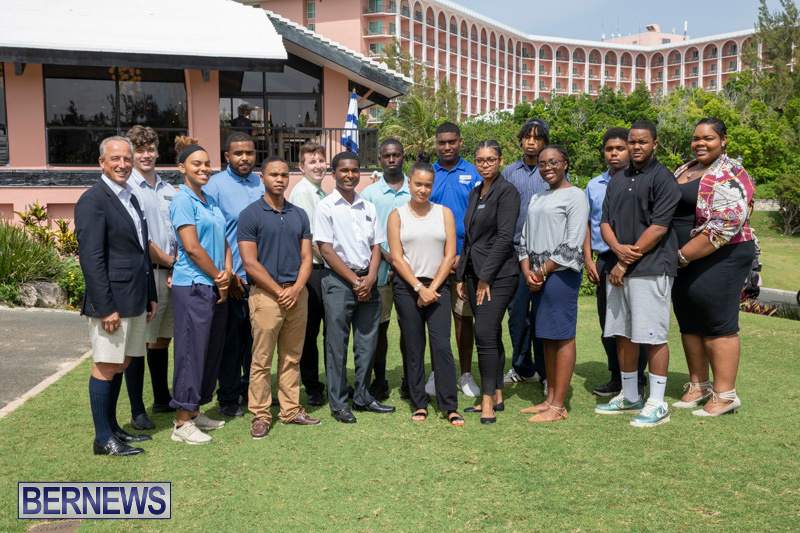 "The last time we hosted the program was in 2010 when we hired 48 students; some have now transitioned into full-time roles in the hotel, whilst others are excelling in roles within the hospitality industry.
"Throughout the school year we host various school students for work placement, this year we had students from Warwick Academy and CedarBridge Academy.
The 23-minute live video replay is below:
"Also, this year we had Whitney Middle School's M3 class come for their Career Day where they received an exclusive tour of the hotel, they also were able to meet with industry professionals [Leaders who work at the hotel]."
The group were addressed by Regional Vice President Caribbean & Mexico and General Manager Fairmont Southampton Kiaran MacDonald, Minister of Economic Development and Tourism Jamahl Simmons, Executive Director of the Bermuda Hospitality Institute Malika Cartwright and Learning and Development Manager Ashjuanna Thomas. Students Chantel Stowe and Shane Rogers expressed their experiences at the hotel.
Participants in the Student Work Experience Program include:
Dariyon Davis – CBA & Bermuda College – Beach Attendant
Shane Rogers – CedarBridge Academy [graduated 2018, will be attending Bda College] – Conference Concierge
Ty-Jah Butterfield-Rollins – CedarBridge Academy – Culinary Summer Student
Dominic Sabir – Berkeley Institute – Culinary Summer Student
JT Lennard Pagsanjan – Berkeley Institute & Bermuda College – Room Call
Tariq Simmons – Berkeley Institute & Bermuda College – Room Call
Kenji Robinson – CedarBridge Academy – Accounting Clerk
Shu'ayb Nasir – St. Mary's University – Accounting Clerk
Jahkeylo Burgess – CedarBridge Academy – Outside Specialist
Jacobi Butterfield – George Brown College – Laundry Attendant
Symira Lowe Darrell – Holland College – Laundry Attendant
Azjahnae Simons – CedarBridge Academy – Pool Attendant
Jahdae Wade – Berkeley Institute – Storeroom Attendant
Chantel Stowe – University of Birmingham – Front Office Trainee
Jashone Pitcher – Bermuda College – Housekeeping Trainee
N'keeme Williams – Bermuda College – Steward
Nafisah Rochester – CedarBridge Academy – F&B Server
Simon Sorrentino – Bermuda College – F&B Server
Read More About