On September 4, Raleigh Bermuda alumnus Keri Pacheco [Borneo '17 & Tanzania '13] started in her new role as Programme Coordinator for the Youth Development Charity.
A spokesperson said, "This is a new position for the Charity and has been made possible by a generous grant from The Bank of Bermuda Foundation. The Programme Coordinator position was developed to support the continued growth, development and evaluation of Raleigh Bermuda's Venturer Recruitment and Training Programme, Alumni Programme, and other programmes that support Raleigh Bermuda's mission, vision, and programme requirements."
Tina Nash, Executive Director, said, "Ms. Pacheco exemplifies everything that we hope for in our young Bermudians. She is motivated, energetic, dedicated and fiercely passionate about our Charity, our programmes and the young Bermudians that we work with.
"Ms. Pacheco has been a large part of Raleigh Bermuda since returning from her 10-week expedition with Raleigh Tanzania in 2013. She has volunteered with Raleigh Bermuda in a variety of ways. She has supported our fundraising activities, environmental service projects and Alumni partnerships with our Seniors' Residences."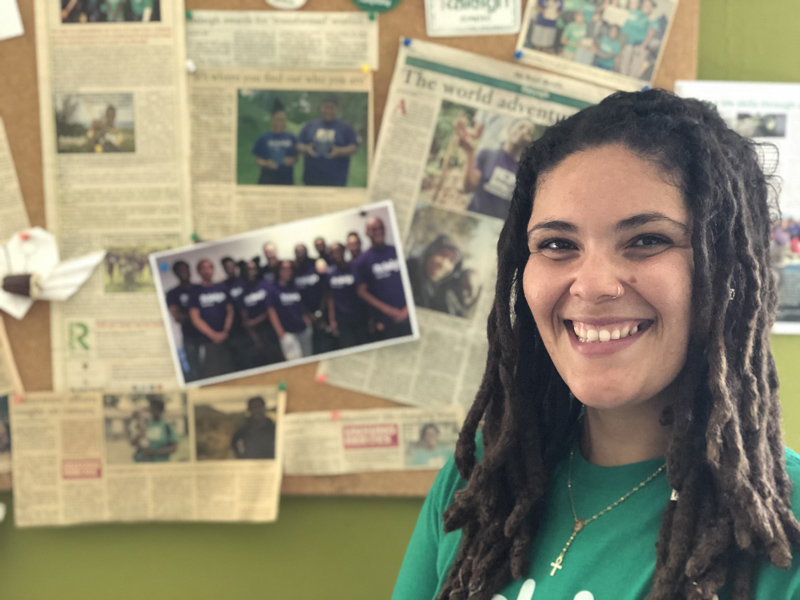 "Ms. Pacheco helped organise our Alumni Holiday Food Hamper Drive and, since 2015, has been the Deputy Chair of our Alumni Committee. Over the years, Ms. Pacheco has continued to support the young Bermudians in our programmes in her roles as a Project Manager, Leader, Trainer and Mentor and was nominated as our Volunteer of the Year in 2016. In 2017, Ms. Pacheco returned overseas to volunteer for 13 weeks as a Raleigh International Project Manager with Raleigh Borneo."
Ms. Pacheco said, "I am grateful for this new adventure and opportunity to grow and learn, and to give my skills and love to the young people of our island. That's who I do it for. They are our future and if we do not learn from them, nurture and guide them, how will we be able to begin to build a strong healthy community?"
"We felt strongly that the right person for the position would be found within our 150 amazing Alumni," said Mrs. Nash. "We are committed to the ongoing support and empowerment of our Alumni and currently have two Alumni on our Board of Directors. It has always been the vision of our founder, Michael Spurling, that our alumni be trained, supported and encouraged to take on leadership roles at all levels of our Charity.
"Hiring Alumnus Ms. Pacheco was another natural step in us achieving that vision."
Ms. Pacheco said, "If I do not take a risk and dare to be great, my light will not shine and bring hope to others. I am blessed and excited to be a part of Raleigh Bermuda's new chapter."
"We couldn't agree more," concluded Mrs. Nash.
For more information about Raleigh Bermuda, call 333-5678, email info@raleigh.bm, or visit the Facebook page, Twitter page, Instagram page, or LinkedIn page.
Read More About