The PLP will host a "Women in Politics" event on Saturday afternoon [Sept 29] at Alaska Hall.
"The Bermuda Progressive Labour Party's Women's Caucus, forged in the tradition of the Party's legacy of 'Great Women of the PLP', such as former Leaders Dame Lois Browne-Evans, Dame Jennifer Smith, The Hon. Paula Cox, and many other committed and articulate women of action, invites you to a very special event, 'Women in Politics," a spokesperson said.
"During the launch of the PLP Women's Caucus in June 2017, many women shared issues they are faced with in Bermuda. This event featured a packed hall, with attendance from PLP MPs [past and present], Executive members, Election candidates, Party members, and members of the general public. The interest expressed was overwhelming and we are pleased to carry on the momentum and host an event focused on the topics raised.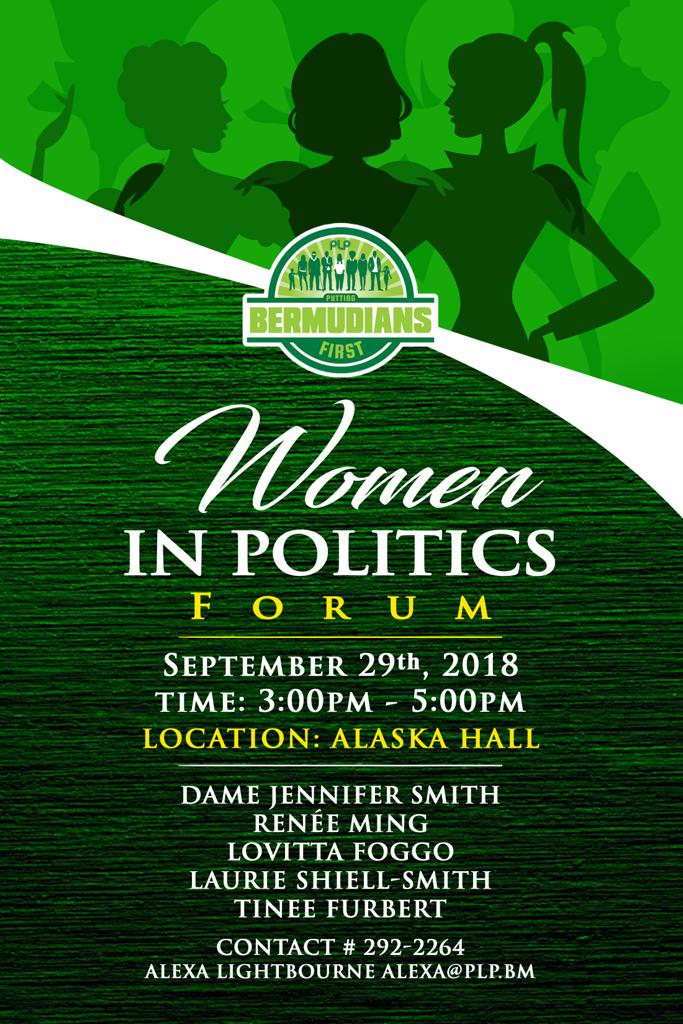 "For decades, it has been the PLP who has set the benchmarks in Bermuda regarding Women in Politics, beginning with Dame Lois and Mrs. Dorothy Thompson being among the first women Members of Parliament elected in 1963; to Dame Jennifer Smith being the first woman leader to win a General Election, thereby becoming Bermuda's first directly elected female Premier in 1998.
"Dame Jennifer also established Bermuda's first and only all-women Governor's Council made up of herself as Premier, the Attorney General [Dame Lois], and Minister for Home Affairs [The Hon. Paula Cox CBE].
"And so, building on this proud history, and the words of the late UN Secretary General Kofi Annan who said 'There is no tool for development more effective than the empowerment of women',
"The Bermuda Progressive Labour Party Women's Caucus invites you to a very special afternoon:
Women in Politics
Saturday, September 29, 2018
Alaska Hall, 3-5pm.
"Members of the Women's Caucus will lead a lively and thought-provoking discussion around the history, changing role, advantages, and impact of women holding elected office in Bermuda. The event will educate, stimulate, and empower the audience.
"The Caucus promises that everyone will leave with renewed vigor and pride in the vital role that women have played and continue to play in the evolution and development of Bermuda's democracy.
"Please RSVP as limited seating is available – Alexa Lightbourne alexa@plp.bm."
Read More About