[Updated] The roof wetting of the New Passenger Terminal Building of the LF Wade International Airport is being held this afternoon [Jan 24] at the site of the Airport Redevelopment Project. We will have additional coverage later on and in the meantime the live video is below.
Update: The live broadcast has concluded and the 21-minute replay is below
Update 6.38pm: A spokesperson said, "Bermuda Skyport today celebrates the completion of the roof for the new passenger terminal building at the LF Wade International Airport.
"A traditional Bermudian roof wetting celebration marked the occasion with pours from a special bottle of Gosling's Black Seal Rum by Minister of Tourism & Transport, Zane DeSilva, Skyport President Aaron Adderley, Canadian Commercial Corporation President & CEO Martin Zablocki, Aecon Concessions President and Skyport Chairman Steve Nackan and Frank Ross, Executive Advisor, Aecon Infrastructure.
Mr. Adderley says: "We are pleased to be able to celebrate such a magnificent milestone here at the LF Wade International Airport – the completion of the roof for the new terminal.
"It wasn't that long ago when we broke ground and here we are, steadily moving along toward a completed, state-of-the-art facility. Thanks to the excellent workmanship on the site, the project is on schedule and due for completion next year."
Photo taken by Nhuri Bashir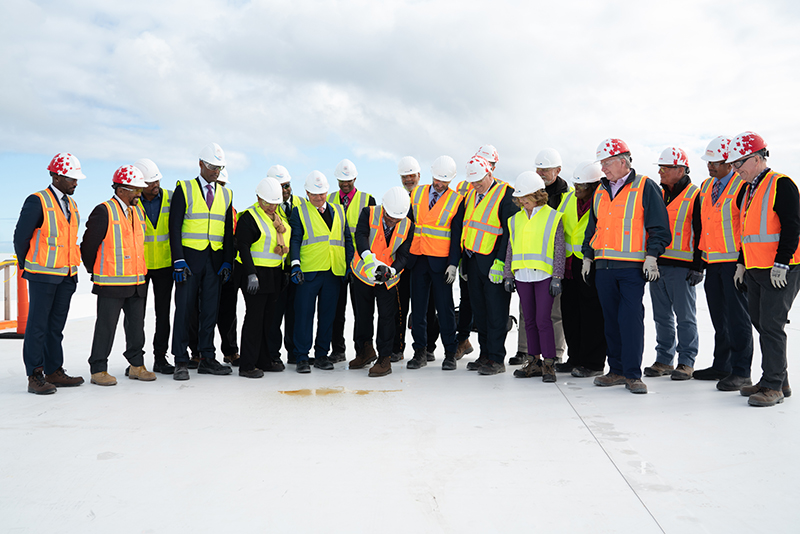 Mr. Nackan says: "Bermuda is now one step closer to having a world-class, modern airport terminal for Bermudians and visitors alike to enjoy. I would like to thank our partners on this project, including the Government of Bermuda, Bermuda Airport Authority, the Government of Canada, all the subcontractors, workers and the Bermuda community at large."
"In addition to the completion of the roof, several smaller milestones have taken place since the project began in March 2017. The structural steel was completed in November and was celebrated with a steel topping ceremony, which is a tradition in Canada.
"The building is due for completion in the summer of 2020."

Read More About