A ribbon cutting ceremony was held this morning [Dec 9] as the new airport terminal officially opened for operations, with the first flight being greeted by a water cannon salute as it touched down.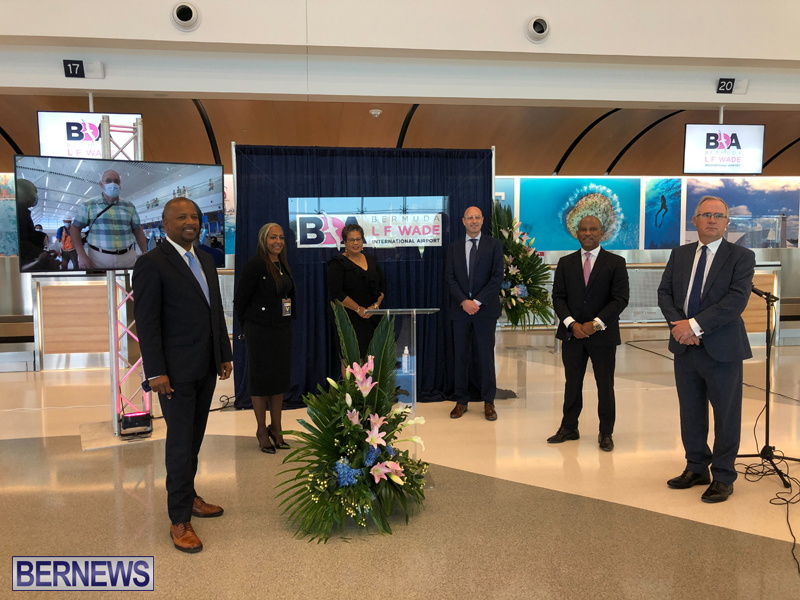 A spokesperson previously said, ""The 288,000 square foot facility will provide for improved passenger processing; increased passenger capacity; greater resilience to extreme weather conditions; modern amenities and infrastructure; greater energy efficiencies; enhanced security; enhanced specialty retail and food & beverage outlets; and covered, passenger jet bridges.
The new facility offers a new U.S. Customs and Border Protection [CBP] Preclearance Terminal, with the CBP saying "this new state of the art facility truly reflects the best Bermuda has to offer, and it exemplifies the strength of the partnership between CBP Preclearance and the people of the island."
Skyport previously said, "There were 885 Bermudians who worked on the site over the course of the airport redevelopment project, which began in March 2017 and a total of 1.6 million construction manhours.
"Additionally, the project engaged almost 400 Bermudian companies, vendors and suppliers in what became an extraordinary collaboration of local and international efforts."
We will have photos from today's opening later on and in the meantime for a look at photos of the new terminal, click here and for all our coverage of the airport redevelopment click here.
Update: A photo gallery from the opening is here.

Read More About