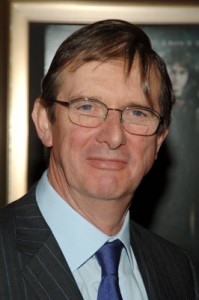 The Bermuda International Film Festival will honour British director Michael Cormac [Mike] Newell with the Prospero Award for Excellence in Film at the 22nd edition of the festival, March 10-17.
Mr Newell will receive the Prospero Award – named after the protagonist in William Shakespeare's play, The Tempest — at the festival's Awards Celebration on Sunday March 17 at 6pm at the City Hall and Arts Centre in Hamilton. Tickets for the awards ceremony are on sale now at biff.ptix.bm.
"The festival is delighted to celebrate Mike's extraordinary career with the Prospero Award," said festival chair, Patrice Horner. "His career spans some 40 years, and the films he has made over those four decades are some of the most popular in history. We look forward to giving Mike a warm Bermuda welcome."
Mr Newell's romantic comedy 'Four Weddings and a Funeral' [1994], won a British Academy of Film and Television Arts [BAFTA] Award for Best Film. Mr Newell received the David Lean Award for Direction for his work on the film.
As the director of 'Harry Potter and the Goblet of Fire' [2005], Mr Newell became the first British director to helm an instalment of the hugely popular franchise.
A Cambridge graduate, Mr Newell began directing at age 22. His television feature 'The Man in the Iron Mask' [1977], which was ultimately released as a feature film, served as the springboard to international success.
He subsequently directed 'Dance with a Stranger' [1984] that won Cannes' Prix de la Jeunesse, 'The Good Father' [1985] that won the Prix Italia, 'Enchanted April' [1991] that won two Golden Globes and 'Into the West' [1992].
Mr Newell also directed 'Donnie Brasco' [1997], 'Pushing Tin' [1999], and 'Mona Lisa Smile' [2003]. His more recent feature credits include 'Prince of Persia' [2010], 'Great Expectations' [2012], and 'The Guernsey Literary and Potato Peel Pie Society [2018]'.
He has also served as executive producer on several projects, including 'Traffic' [2000] and 'High Fidelity' [2000].

Read More About
Category: All, Entertainment, Films/Movies