During the recent group stage of the Concacaf Nations League. Bermuda's goalkeeper Dale Eve made remarkable 22 saves, earning him a mention in the CNL summary.
The latest statistics published on the CNL website said, "The group stage of the 2019-20 Concacaf Nations League is complete and in League A there were many notable performances at both the individual and team levels.
"League A finished with a total of 73 goals scored and 49 assists, with 40 of those goals coming for the home side and 33 for the visiting side.
Goalkeeper Dale Eve training in Costa Rica during the Gold Cup earlier this year: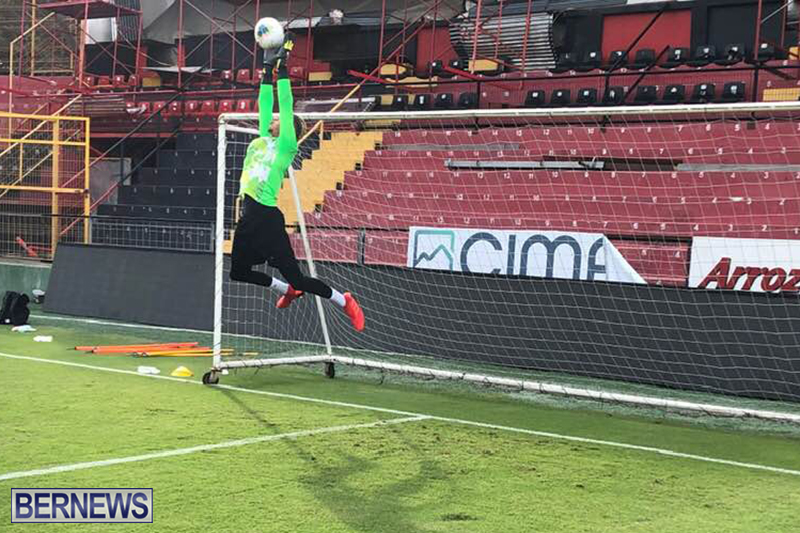 "Interestingly enough, Week 3 in League A saw an uptick in assists, with 20 in total, more than 40 percent of the total assists registered during the group stage.
"The large majority of the goals came from starting players [69], while there was a fairly even split of when the goals were scored: 38 in the first half of matches and 35 in the second stanza.
"In League A there was just one scoreless draw, while there was a total of 17 victories, 13 clean sheets and 140 saves made by goalkeepers.
"Among the offensive stars in League A were Jordan Morris of the United States [four goals, four assists], Stephane Abaul of Martinique [eight shots on goal] and Steven Vitoria of Canada [97.8 passing completion rate].
"Vitoria was also the eldest player to score at age 32, while Canada teammate Alphonso Davies was the youngest goal-scorer [18].
"Bermuda GK Dale Eve stood out with saves [22], while no one logged more minutes than Honduran veteran DF Maynor Figueroa [388], and no player had more minutes as a substitute than Curacao's Roly Bonevacia [104].
"On a team level, the United States led the way in goals [15] and assists [13], Canada had the most completed passes [1534], Martinique was the most efficient passing team [91%], Mexico created the most scoring chances [66] and Honduras had the most shots on goal [31]."
The full League A Stats Report follows below [PDF here]

Read More About