Heart-to-Heart Marriage Mentoring Ministries has announced that Dr. Gary Chapman, author of The 5 Love Languages, will visit Bermuda to host a seminar on Friday, March 13 at the Fairmont Southampton beginning at 6.00pm.
A spokesperson said, "Heart-to-Heart Marriage Mentoring Ministries is excited to announce that Dr. Gary Chapman will be in Bermuda for the first time on March 13.
"Dr. Chapman – New York Times' bestseller and world-renowned author of the mega-selling phenomenon The 5 Love Languages series – is coming for his first and only Bermuda engagement.
"The 5 Love Languages series has sold more than 12 million copies worldwide and has been translated into over 50 languages. His programmes have broadcast on more than 400 stations globally.
"Dr. Chapman, through his ministry, has been strengthening millions of relationships one language at a time. There is a message for everyone."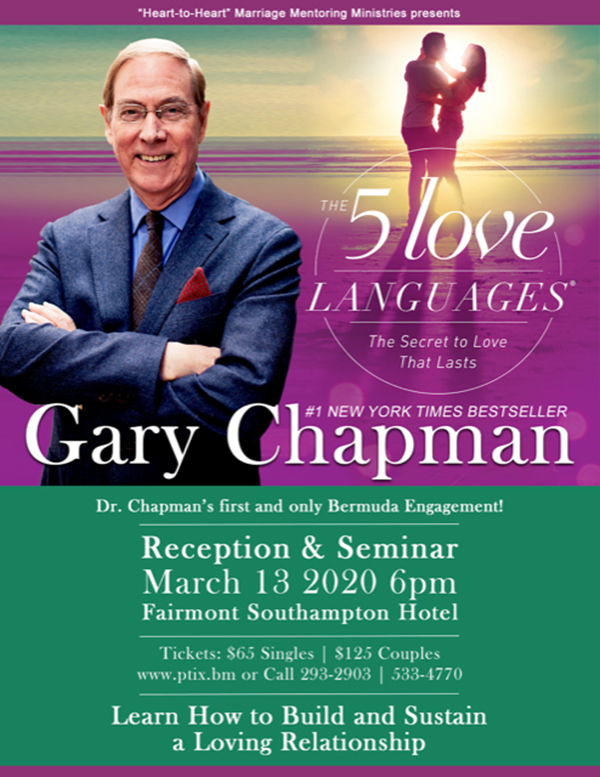 "Each person gives and receives love differently, but with a little insight into these differences, we can confidently be equipped to communicate love well. This is true for all forms of relationships – for singles, for married or dating couples, for children and teenagers, for friends and co-workers, for long-distance relationships, for those brand-new romances and for seasoned lovers.
"The official Bermuda event will be an evening reception and seminar with Dr. Gary Chapman. Attendees will experience a relationship encounter built on 40 years of sound relationship principles that can help:
Improve communication
Resolve conflict
Develop deeper intimacy
Increase commitment
"Over 20 different titles of Dr. Chapman's books will be on hand at the event at US prices, including his latest book, Building Love Together in Blended Families, launched in February on the Allure of the Seas.
"This event will take place at the Fairmont Southampton Hotel at 6.00pm. Tickets are available for $65 [single] and $125 [couples] at ptix.bm or by calling 293-2903 or 533-4770.
"The Fairmont Southampton Hotel will be offering a special rate of $149 for those attending the seminar who wish to spend the night. Interested persons can call Fairmont Southampton directly at 238-8000.
"For more information on this event, please call 293-2903 or 533-4770 or email heart2heartbda@gmail.com."
Read More About
Category: All