Katura Horton-Perinchief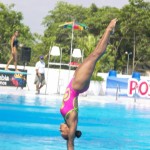 "Diving" her way into history, Katura became the first black woman [from any nation] to compete in Olympic diving with her appearance at the 2004 Olympics where she represented Bermuda.
Born in Bermuda on February 26th 1983, Katura began diving competitively at age 7 in Canada.
By the and age 15 she was the Canadian National Champion winning gold medals across three diving disciplines; 1 metre board, the 3 metre board and the platform.
Katura has represented Bermuda in various international events including:
2002 Commonwealth Games, Manchester, England
2003 World Championships, Barcelona, Spain
2003 Pan American Games, Dominican Republic
2004 World Cup, Athens, Greece
2004 Olympics, Athens, Greece
2006 Commonwealth Games, Melbourne, Australia
Katura was the first female Bermudian to compete in Olympic diving, and her 2004 Olympic appearance broke a 52 year streak, as the last Bermudians to compete in diving were Mickey Johnson and Francis "Goose" Gosling who competed at the 1952 Helsinki Olympics.
Injuries forced her to retire from diving; she suffers from arthritis in both shoulders and disorientation due to a cerebral cyst.
Fluent in French and Spanish, Katura graduated from the University of Texas with a BA in French with honors and a minor in biology.
While in Texas, she was the 2004 Diving Team Champion, and earned the 2003 IAW Memorial Scholarship and the 2004 Anne Pardonner Scholarship for women
Click to enlarge images:

She went on to George Washington University to earn her Masters in Public Health, and while there was hired as the University's diving coach before returning to Bermuda. At the graduation ceremony, Katura was the student speaker, and had the privilege of presenting the former first lady of the United States Barbara Bush.
She joined the staff at King Edward VII Memorial Hospital [KEMH] at the end of 2008.
Involved in the community, she serves on the boards of the National Sports Center and the Bermuda Olympic Association.
From a prominent Bermudian family, Katura is the daughter of Permanent Secretary for the Ministry of Environment and Sports Ellen-Kate Horton [who represented Bermuda in softball] and former Attorney General Philip Perinchief. Katura is also the niece of former Bermuda international footballer and PLP MP Randy Horton.
She has a tattoo of the Olympic rings on her lower back.