Paula Cox
Married to Cameroon-born businessman Germain Nkeuleu since 1999, Premier Paula Ann Cox is the only daughter of Alinda and C. Eugene Cox, one of the founding fathers of the Progressive Labour Party who went on to serve as both Deputy Premier and Finance Minister.
In her professional life, Premier Cox worked as Corporate Counsel at ACE Limited, joining the global re/insurance giant in 2002. She previously worked as Vice President and Senior Legal Counsel of Global Funds Services at The Bank of Bermuda Limited.
She became active in Bermudian politics after she completed her education and returned to the island on a full-time basis in the 1990s. For many years Premier Cox was the late PLP Leader Frederick Wade's closest aides. She was his first Shadow Parliamentary Secretary, and at the same time the PLP's Public Relations Officer.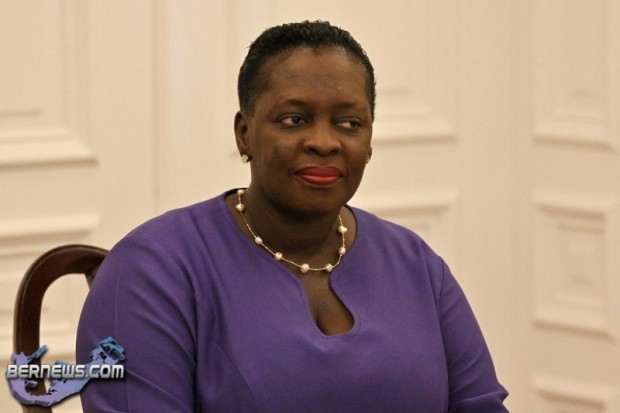 Aged 32, Premier Cox was first elected to Parliament in Devonshire North for the then-Opposition PLP in a by-election in October 1996, following the sudden death of Mr. Wade.
Two years later, on November 9, 1998, she was one of the 26 PLP candidates who swept to power in the historic 1998 elections, taking control of Bermuda's then 40-seat House of Assembly. Premier Cox was appointed as the first PLP Minister of Labour, Home Affairs and Public Safety.
She was then appointed Minister of Education and Development on November 1, 2001. Following the July 2003 General Election, Ms Cox was appointed as Attorney-General and Minister of Education. She served in this dual portfolio until January 2004.
She and her father were unique in the House of Assembly as they were the only serving father-daughter duo in the Bermuda Parliament's almost 400-year history. She was named in "The Bermudian Magazines'" Best of Bermuda Gold annual listing as the most effective politician for 2001, 2003 and 2006.
In January 2004, following the death of her father Eugene Cox, she succeeded him as the Minister of Finance — a post he had wanted her to take. In October 2006, Premier Cox rose to the position of Deputy Premier.
When Dr Ewart Brown said he would be leaving office in the fall, Premier Cox announced she would be seeking the leadership position on August 5, 2010. She became the immediate front runner in the three-man race, drawing broad support from within the party. On October 28, 2010 she bested Terry Lister and Dale Butler to win the leadership challenge – and become Premier.
Premier Cox is sworn in on October 29, 2010 at Government House: