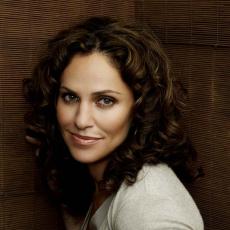 Globe and Emmy nominated American actress Amy Brenneman has tweeted her "obsession", as well as written a column saying she is "totally invested in" Bermudian Olympian Tucker Murphy.
Best known for her starring role in the CBS television series "Judging Amy", Amy Brenneman has also appeared other series and movies including NYPD Blue, Frasier and Private Practice. From 1994 to 2002 she was nominated for eight Golden Globe and Emmy Awards, and won two TV Guide Awards.
Bermuda's 2010 Winter Olympian Tucker Murphy competed in the 15km cross country skiing, apparently inspiring Ms. Brenneman to post a message on popular social networking website Twitter, as well as pen an entire article based on Mr. Murphy.
On February 13th she tweeted:
My new obsession is with the cross country skier from Bermuda. Dude was wearing red shorts to the opening ceremony
This is far from the first time Mr. Murphy has been "tweeted" about; during the Olympic Opening Ceremonies Twitter flooded with hundreds of messages about Mr. Murphy and his now infamous red Bermuda shorts.
Not content to simply Tweet, a week later the actress wrote an entire article at one point saying:
The sole athlete representing Bermuda — who I'm now totally invested in — is a cross-country skier. He walked out wearing snappy red Bermuda shorts and a navy blazer, looking like he was ready to serve gin-and-tonics to a visiting boatload of billionaires
And later goes on to say:
So then you have to wonder: At what point did this guy say to himself, "Cross-country skiing is the sport for me! No swimming, scuba diving, sailing! No way, that's too easy. I'm going to commit to a sport that will completely uproot my life — and my family's, too — and move to … Utah? New Hampshire? Gstaad? I'm going to train to be a cross-country skier in the Winter Olympics! And I am going to kick some serious ass!"
Click here to read her full column
Read More About
Category: All, Films/Movies, Sports