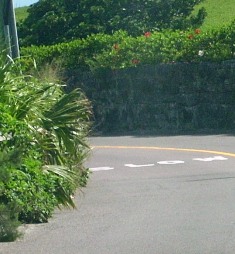 Opposition Leader and Shadow Minister of Transport Mr. Kim Swan, is calling for increased measures to improve road safety include better road lighting through the use of solar-powered lights, cats eyes on centre lines, traffic-calming measures such as speed bumps, speed cameras, random Police checks, and fast-tracking of random roadside breathalyzer testing.
Referring to the pedestrian struck by a car and killed this weekend, Mr Swan said that he, along with his UBP colleagues, are deeply saddened to learn yet another person has lost their life on Bermuda's roads. The driver of the car involved in the fatal accident was arrested on suspicion of impaired driving and causing death by dangerous driving. He has since been released on police bail.
In 2009, while driving on North Shore Mr Swan and his wife were struck by an alleged drunk driver, who subsequently admitted in Supreme Court he caused grievous bodily harm to Mrs Swan, and actual bodily harm to Mr. Swan. Drawing a veiled reference to the incident Mr Swan said:
Personally, I am all too aware of the terror of being involved in a serious late-night road accident and narrowly escaping with your life at the hands of drunk driver. We must have zero tolerance for driving while impaired.
Saying that Bermuda must become a zero tolerance jurisdiction when it comes to driving under the influence of alcohol or drugs, Mr Swan continues by saying:
Drunk drivers are partly the product of a 'happy hour' society that does too little to emphasize responsible behaviour and the harm done by drunk drivers. We support the work of CADA but the public needs to be reminded more regularly about safe driving habits and not letting friends drive drunk.
Ending his statement, the Opposition Leader said that on behalf of himself and his colleagues within the United Bermuda Party, their prayers go out to the family of the deceased.
Read More About
Category: Accidents and fires, All, News, Politics