Presently in Moscow, Premier Dr. Ewart Brown today [May 11] conducted a series of meetings with Russian airlines Aeroflot, S7, UT Air, the Department of State Policy for Civil Aviation and the Federal Air Transport Agency responsible for handling aviation regulatory oversight under Russia's Ministry of Transport.
The Premier's trip to Russia was prompted by the UK Government questioning of the Aircraft Registry of Bermuda particularly in relation to Russian aircraft. There has been no specific reason given why the UK Government has taken a specific interest in Bermuda's Aircraft Registry, however speculation has arisen it may be due to liability issues. There has been at least one instance of a Bermuda-registered Russian-operated airline crashing, in which all 88 passengers died. Numerous other Bermuda-registered aircraft have made thousands of flights for decades without incident.
The aircraft registry has existed for many decades, and generates millions of dollars annually for the Bermuda Government. In 2003, the Bermuda Aircraft Registry earned $3.5 million dollars. Five years later, in 2008, the Registry brought in $10 million. In 2010/11, the Finance Minister projected that the Aircraft Registry would bring in $20 million.
The relationship between Bermuda and the Russian airlines has allowed them to expand their networks and modernize their fleets allowing them to remain competitive, both domestically and internationally.
Pictured below left to right: Bermuda Director of Civil Aviation Thomas Dunstan, Mikhail Petuknov, Alexander Kuldonov (Director of Flight Operations and Flight Safety), Premier Dr Brown, Mr. Youri Belikh – Technical Director, Mr. NikolayAntonov – Quality Manager:
-


-
In 2005, S7 became the first Russian airline to launch an internet ticket sales service via its website. They are one of the world's 50 biggest domestic airlines, and in 2006 made more than 40,000 flights, carrying 4,900,000 passengers and more than 28,000 tonnes of cargo and post. Pictured below is Premier Dr. Brown and S7 Airlines General Director Vladamir Obyedkov:
-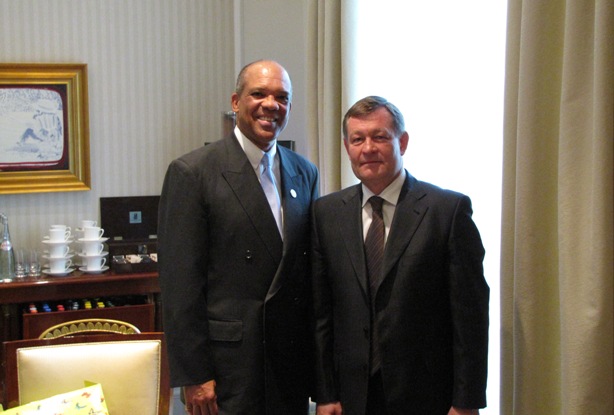 -
Premier Dr Brown said:
Today was a marathon mix of meetings with airline operators and Government officials. I was struck by the consistent praise for our aircraft register. They welcomed the news that we plan to open a satellite Civil Aviation unit at the Bermuda office in London.

This has been a grueling schedule but well worth it. The work of our Director Thomas Dunstan and his team has been exemplary. They deserve to lead a growing aircraft register on behalf of Bermuda.
Yesterday Premier Dr Brown and the Bermuda Director of Civil Aviation Thomas Dunstan met with officials from Bureau Veritas [BV] in Moscow, Russia, with the Premier scheduled to return to Bermuda this coming Thursday May 13th.
Read More About