Members of the Ukrainian community of Bermuda gathered today [Feb 24] to show support and solidarity for each other and their homeland, with people gathering on the steps of City Hall with the Ukraine flag.
Russia's invasion of Ukraine has been widely condemned by the international community, and western nations have levied various sanctions against Putin's regime, and the Bermuda Monetary Authority has posted the sanction notices on their website.
Bermudians, like many around the world, are closely following the news from Europe as Russian troops advance on the nation. As of this writing, international media report that at least 57 people have died and 169 injured since Moscow launched the invasion.
Update: Bermudian Jonathan Starling attended today's gathering and told Bernews, "I stand in solidarity with the civilians of Ukraine and the people of Russia who are taking a stand against this invasion, even under harsh police repression. I hope that the peace movement in Russia grows and brings an end to this war, and that there are no further escalations. While this war is being fought in Ukraine, I believe peace must be won in the streets of Russia itself."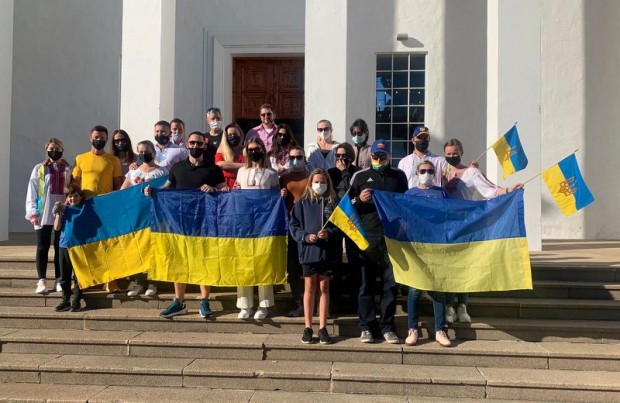 Read More About