Members of Overseas Territories Consultative Council (OTCC) paid a courtesy call on the House of Assembly this morning [June 4]
This morning's official opening of the pre-Overseas Territories Consultative Council (OTCC) Meeting held at the Fairmont Hamilton Princess began with welcome remarks delivered by Premier of Bermuda, Dr. Ewart Brown.
Several Heads of Government representing the Caribbean nations of the Cayman Islands, the British Virgin Islands, Anguilla and Montserrat arrived on Island last night for three days of discussions with the Premier in advance of this falls OTCC Meeting in the UK.
Of the morning session, Premier Brown said, "It is tremendous that the collective intellect of the members gathered today will be coalesced around the needs of our respective countries. This assures that their best interests are represented at the upcoming OTCC Meeting to be held in London later this year."
The Government heads briefly suspended the morning session at 9.30 am, to pay a courtesy call on Speaker of the House, Stanley Lowe. After formal introductions, a brief discussion took place amongst the leaders as they signed the obligatory guest book. The amiable exchange compared both island destinations and Parliamentary procedures and we would leave it to the imagination to determine which leader thought his island best.
Joining Speaker Lowe in welcoming the guests were Deputy Speaker, Dame Jennifer Smith, DHuml, MP and Deputy Clerk to the Legislature, Mr. Clark Sumner. Government Heads then joined in the opening of today's Parliamentary session, where they spent a short time observing proceedings of the House.
Members of the visiting party included:
Hon Mckeeva Bush OBE, Premier and Minister of Finance of Cayman Islands
Hon. Ralph T. O'Neal OBE, Premier of British Virgin Islands
Dr. Hon. Vincent Scatliffe, Member, House of Assembly of British Virgin Islands
Mr. Edison Baird, Deputy Chief Minister and Minister of Social Development of Anguilla
The Hon Charles Kirnon, Minister of Communications and Works and Labour of Montserrat
Following Parliament, the leaders returned to the Fairmont Hamilton and this afternoon, they will participate in an informal luncheon with the Cabinet and Civil Service Executive. Following the luncheon, they will resume their business sessions. At 5.00 p.m. there will be an official press conference at which time the Premier will deliver an update on the day's deliberations. The OTCC meeting, the first of its kind ever held in Bermuda, takes place from June 3 -6. Fourteen countries comprise the remaining British Overseas Territories, with Bermuda being the oldest.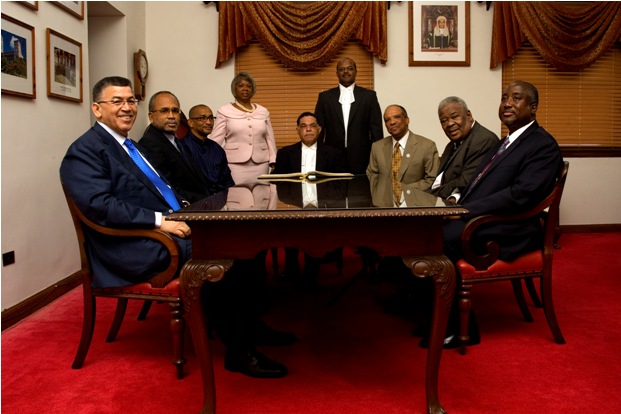 Seen in photograph above left to right (Courtesy of DCI):
The Hon. Mckeeva Bush – Premier and Minister of Finance; Cayman Islands
The Hon. Edison Baird – Deputy Chief Minister and Min. of Social Development; Anguilla
The Hon. Charles Kirnon – Minister of Communications; Montserrat
The Hon. Dame Jennifer Smith – Deputy Speaker of the House of Assembly
The Hon. Stanley Lowe – Speaker of the House of Assembly
Mr. Clark Somner – Deputy Clerk to the Legislature
Dr. the Hon. Ewart F. Brown – Premier and Minister of Tourism and Transport; Bermuda
The Hon. Ralph O'neal – Premier; British Virgin Islands
The Hon. Dr. Vincent Scattliffe – Member of the House of Assembly; British Virgin Islands
Read More About