[Updated] Only two days after the last shooting, Bernews understands there was a firearm incident in the Mount Hill, Pembroke Parish area tonight [July 12]. We are on the scene now, and there are presently at least three police cars on scene now, and at least half a dozen police officers who are searching the ground with flashlights.
There is crime scene tape blocking a section of the road, and the house that is blocked off by crime tape has been the subject of Police attention before. Bernews understands that one of the residents of the house was shot and injured quite recently. Neighbours tell us they heard three gunshots approximately 40 minutes ago.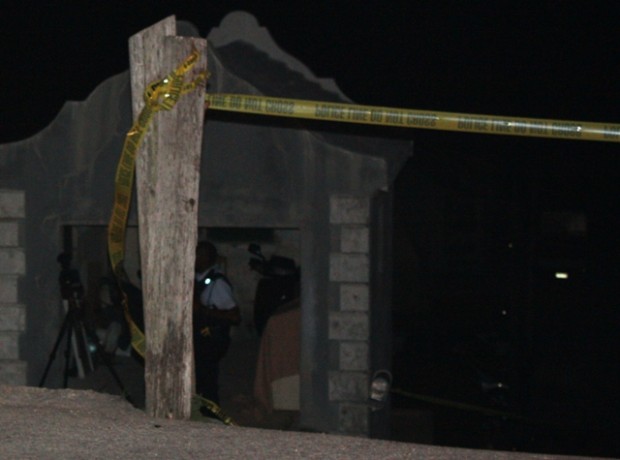 Updates to be posted as they come in:
Update: 11:34am: There are now at least 12 Police Officers on scene, and they are searching all around the house, including the front door. We have seen the residents of the house, including the one that was shot previously this year, and they are fine.
Update 12:05am: Official information from Police stating a 17-year-old male was shot at, no injuries, and suspect escaped.
Police responded to a confirmed firearm incident that took place around 10:30pm Monday in the area of Mount Hill and Overview Hill in Pembroke.

Upon Police arrival it was ascertained that an unknown male discharged a firearm at a 17 year old Pembroke man; however the 17 year old was not injured. The suspect then made good his escape.

Police are appealing for any witnesses, anyone who may have seen anyone acting suspiciously in the area around the time of the incident or anyone with any information to contact Police on 295-0011 or call the independent confidential Crime Stoppers Bermuda hotline at 800-8477
Update 12:06am: There appears to be what could be, and is unofficially said to be, bullet holes in the side of the house
Update 12:22am: Police are making door to door inquiries.
Read More About