[Written by Laurie Fullerton] Diogo Pereira, 14, of Portugal won The Renaissance Re Junior Gold Cup by eight points. Pereira had a strong regatta throughout the week. The four-day international Opti class regatta wrapped up Sunday after the twelfth and final race sailed on the Argo Group Gold Gup course in front of a huge spectator fleet on Hamilton harbor. Odile van Aanholt the 12-yesr-old from Curacao placed second and fourteen-year old Bermuda sailor Sam Stan nabbed third place.
Below Olympic medalist Ben Ainslie poses with Diogo Pereira, winner of the RenRe Junior Gold Cup. Photo credit: Subzero Images /WMRT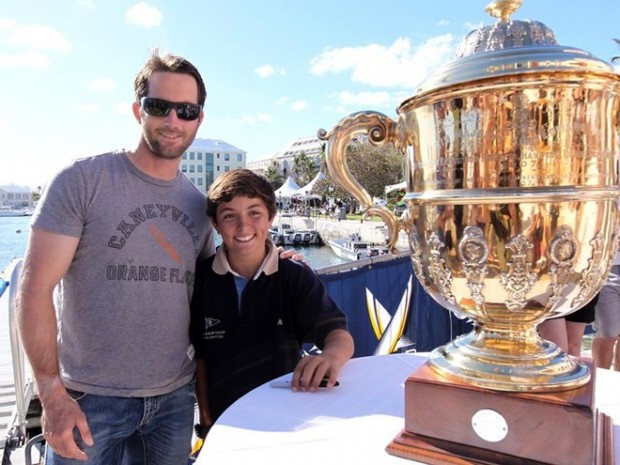 The Renaissance Re Junior Gold Cup is one of the key events for young Optimist Dinghy sailors in Bermuda. For some of those international skippers who receive an invitation to come to Bermuda from overseas, it is the first time they have ever been away from home.
Some of the international sailors are shy but such is not the case for this years outstanding sailor and overall winner Pereira who also won the hearts of many Bermudians with his sailing skills and confidence. Pereira, who jokingly refers to himself as 'the special one' as a reference to one of Portugal's great athletes, led the 31-strong Optimist fleet for most of the event with enough points to win the Renaissance Re Junior Gold Cup.
'I am very excited to win and very excited to be here,' said Pereira. He gestured about his strategies after the race with hamburger in hand while waiting for the autograph of Argo Group Gold Cup winner Ben Ainslie. 'When I went out on the race course today, I just kept telling myself I cannot be nervous. I have to focus on the race and that is what I did.' After finishing Sunday's race, Pereira and his coach draped the Portuguese flag across the sail of his Optimist and sailed a victory lap.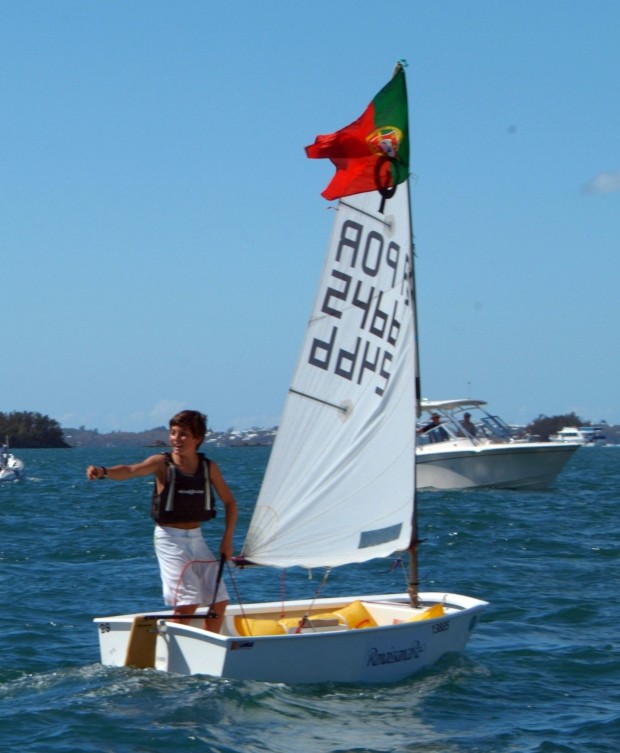 For this year's group of Junior Gold Cup sailors, there is always a series of firsts. For some of these young individuals, it was the first time they had ever been in an international regatta, the first time sailing in a race in front of a field of spectators and the first time – perhaps – overcoming fears to finish a real race.
'Sailing is a complex game and it is my job as their coach to help them understand that they need to perform at this level,' said Paul Doughty, an ISAF senior instructor and the Royal Bermuda Yacht Club's development coach. 'It is a performance and how well you are playing. Everyone needs some coaching and we are basically building them into good racing sailors.' Three Bermuda sailors were in the top 10 overall in an event that featured 31 sailors from 14 countries overall. Sam Stan finished in third place, Antonio Bailey in eighth place and Rory Caslin who finished 10th.
'The Bermuda sailors were great and I was particularly impressed by Rory Caslin who kind of came out of nowhere and took the regatta by storm with top finishes throughout including second place in today's final race,' said regatta chairman Somers Cooper. 'The weather for this regatta was perfect with 12 to 18 knots on the Great Sound and our sailors did well with Sam Stan qualifying for the Optimist Worlds in December. It is serious racing out there on the water, but also when the kids get off the water they have already begun building friendships with kids from around the world and these friendships last a lifetime.'
Read More About