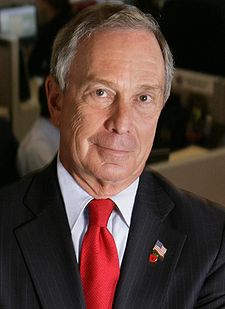 New York Mayor Michael Bloomberg, who owns a home in Tucker's Town, has denied he will launch a White House bid, saying yesterday [Dec 12] there is "no way, no how" he would ever run.
Speaking on NBC's Meet the Press he said "I'm not looking at the possibility of running," going on to say that "I want to go out being, having a reputation as a very good, maybe the greatest mayor ever."
A lifelong Democrat before seeking elective office, Mayor Bloomberg switched his registration in 2001 and ran for mayor as a Republican, winning the election that year and a second term in 2005. He left the Republican Party in June 2007 to become an independent. In the fall of 2008, Mayor Bloomberg successfully campaigned for an amendment to New York City's term limits law, in order to allow him to run for a third term in 2009. T
here has been frequent speculation over the years that the Mayor would be on the Presidential ticket in either the Presidential or Vice Presidential slot.
The Mayor of New York since 2002, Mr. Bloomberg earned his fortune from the financial news and information services media company that bears his name. His net worth is estimated at $18 billion by Forbes Magazine, and reports say he gave away $180 million last year to various charities.
Mr. Bloomberg's longstanding Bermuda ties were the subject of a media attention in New York earlier this year.
Read More About
Category: All