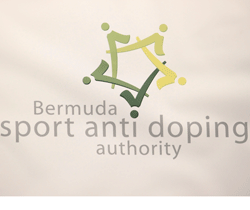 The Bermuda Council for Drug-free Sport has changed its name to Bermuda Sport Anti Doping Authority.
Jon Beard, the Chairman of the Bermuda Council for Drug-free Sport said "One of the most important strategic changes identified is the need for legislation with the Government diligently working towards this. Within the frame work of Legislation it was deemed necessary to change our name in order to bring the agency in line with its added areas of responsibility.
"As such, we are pleased to announce today that with immediate effect we will now be known as the Bermuda Sport Anti Doping Authority. Similar in stature to the Bermuda Monetary Authority with their responsibility to the country over banks and investments firms, we will have the primary authority over athletes and sporting bodies as it relates to strict liability and application of the Code and the Bermuda Sport Anti Doping Authority Rules and our Domestic Rules for Illicit Testing.
"We have been working with Fusion of the DNA Group who have developed our branding and we are please to unveil our new logo. This logo was created with the belief that most athletes like to consider themselves as stars, whether they are international or domestic athletes.
"The BSADA logo has an icon which represents a star. This particular design has a number of meanings. The star is made up with solid coloured check marks along with a solid coloured circle at the bottom corner of each check mark. The check mark represents the all clear for an athlete or that everything checks out for them to carry on without incident.
"The solid circle along with the check mark together symbolizes a stylized representation of a person. This along with the overlapping of each check mark refers to our community. This represents the community working together for a common goal. This common goal would see the success of the athlete. Colours used in the star icon represent the green lush landscape of our island home. Green also symbolizes prosperity which we hope will transfer into a large number of athletes with a large number of achievements in their sporting career.
"The Board is very satisfied in knowing that with our name and the staff now firmly in place, we are well positioned to be the Authority for Anti Doping in Bermuda. Whether domestic or amateur sports, national or international level, athletes, athlete support personnel or indeed professional level athletes, we all have a role to play in creating a level playing field for our athletes.
"The Bermuda Sport Anti Doping authority is here to serve the Bermuda community in this regard and we firmly believe that The Bermudian sporting community can deter athletes from using banned doping practices and illicit substances through the provision of high quality independent and accessible anti-doping programmes together with a comprehensive education and awareness plan in order to enhance the value of sport and promote a healthy environment in which to compete, and for the community to enjoy."
Read More About