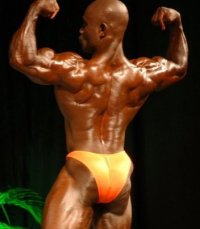 Marking the first time a Bermudian bodybuilder has failed a drug test in international competition, Ross Ceasar has been stripped of the gold medal he won at the Caribbean and Central American Bodybuilding Championships [CAC].
Although he represented Bermuda, Mr. Ceasar is originally from Barbados. He is the reigning Mr. Bermuda champion, and a multiple time previous national champion who has previously represented Bermuda at the CAC Championships.
This is Mr. Ceasar's second time failing a drug test, and he has been banned from competing for two years. He was also banned from competing for two years after his prior failed test.
He will not be stripped of his Mr. Bermuda title which he won in August.
Mr. Ceasar won the gold medal in the the light middleweight division at the CAC Championships last October in Grenada. The CAC is an International Federation of Bodybuilding and Fitness [IFBB] sanctioned event, and considered one of the most prestigious amatuer contests.
A veteran personal trainer, he has worked out of the Seaview Health Centre in Devonshire.
He was the lone Bermudian, but one of six bodybuilders in total to have tested positive.The others were:
Phillip Clahar of Jamaica [Super heavyweight champion]
Joshua Fred Sanchez of Puerto Rico
Jaime Patricio Bolens of El Salvador
Juan Carlos Vega of Puerto Rico [Heavyweight champion]
Martinus Durrant of Barbados [overall champion]
Winning the overall title as Martinus Durrant did, would have qualified the 37-year-old to compete in the coveted professional ranks, where prize money goes over one million dollars a year. With his positive test he is now stripped of his title, and therefore ineligible for professional status.
Drug tests are normally conducted on the winners of each weight class immediately after the contest, with the winner being escorted away to produce a urine sample.
The Bermuda based bodybuilding federation normally drug test each competitor they send to the CAC's in advance, and say Mr. Ceasar was tested.
The test is not only for performance enhancing substances [steroids], but also for recreational drugs and substances that can be found over the counter in certain medications. It is not known exactly what Mr.Ceasar tested positive for.
In a twist of double standards, the Caribbean based IFBB amatuer wing is one of the few to drug test; the American, Canadian, Australian and most of European IFBB amateur wings do not.
It should be noted that although this is a blight on the record of Bermudian bodybuilding, the local bodybuilding scene has an impressive record of competitors consistently passing drug tests, as well as bringing home medals from the CAC Championships each year.
This is the first time a bodybuilder representing Bermuda has tested positive in an international competition.
Read More About