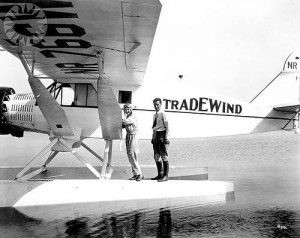 A pioneering female aviator whose plane was lost after departing Bermuda on the first attempt at a commercial transatlantic flight in 1931 is being commemorated in her native Ohio on the 80th anniversary of her disappearance.
Beryl Gwyn Hart was a contemporary of Amelia Earhart and at one time almost as well-known as that legendary flier. She and co-pilot William S. MacLaren embarked from New York on a three-leg Bermuda/Azores/Paris flight on January, 1931  to demonstrate the feasibility of regular cargo plane traffic across the Atlantic.
Their seaplane, "Tradewind", made a perfect landing in Hamilton Harbour about eight hours after departing New York. The pilots rested in Bermuda for two days before resuming the journey.
"Weather conditions were fair in Bermuda, although experts predicted that the 'Tradewind' might encounter squalls and rain on the way to the Azores. MacLaren decided the forecast was nothing to worry about," reports the Ohio "Beacon Journal" newspaper. "After filling the seaplane's 460-gallon fuel tanks, MacLaren and Hart prepared to take off at 12:15 p.m. January. 10, 1931. "'White-clad Bermudans and winter visitors, including many Americans, cheered wildly as the machine skimmed the harbour waters and then mounted in the air to disappear a few minutes later in the haze to the eastward',' one reporter noted.
"The 'Tradewind' was due over the Azores at 11:15 a.m. A crowd gathered in Horta to welcome the plane, but it didn't arrive.
"Passing ships were radioed to look for the Tradewind. Islanders began to fire flares after dusk.
"Reports trickled in that villagers on Sao Miguel island in the Azores believed they saw an object fall into the ocean several miles off the coast. Rescue efforts were made in rough seas. No debris was found."
Read More About