Entertainment website E! Online is reporting tonight [Mar.6] that the Warwick home of superstar couple Michael Douglas and Catherine Zeta Jones is for rent– at $28,000 a month.
E! On-Line said the Longford Road property — featured in the July, 2002 edition of "Architectural Digest" — spans "across 7,381 square feet of living space … The master suite comprises the two-storey home's entire upper floor.
"There is also a sauna, exercise room and the closets are climate-controlled.
"Resting on three acres of lush tropical land, the property also features a pool, tennis courts and guest cottages …"
Michael Douglas and Catherine Zeta Jones are reportedly renting their Warwick property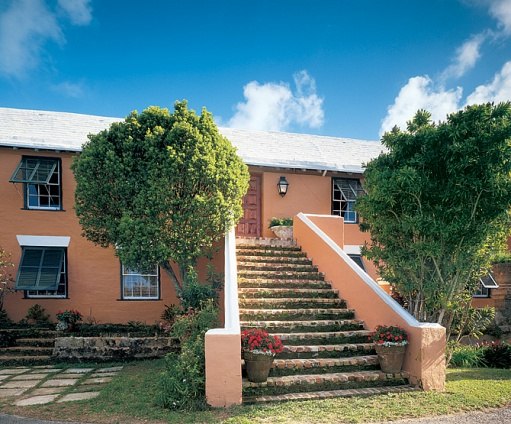 The couple made the Bermuda estate their primary residence between 2001 and 2009.
They also own apartments in New York and Los Angeles, a country estate in New York, a ski house in Colorado, a villa in Majorca, a house in Ms Zeta Jones' native Wales and a beachfront property in the Turks & Caicos Islands.
Recently Michael Douglas — whose mother Diana Douglas is Bermudian — penned the foreword to a 2012 photographic book entitled "Bermuda" being sold to raise funds for various island charities.
"I remember summers in Bermuda as a child and the feeling of peacefulness that the natural environment of the island provides — the island air and the beautiful light; the pink beaches; the crystal clear blue-green water; the tropical flora," he said in his introductory remarks.  "There is also a special feeling of connectedness that comes with being on the island that was my mother's childhood home and our family's home for the past 400 years.
"All of this led Catherine and I back to Bermuda in 2001 to create a home for our children.
"We had some wonderful times in Bermuda with our children. We enjoyed the respect and privacy that Bermudians afforded us. It is one of those rare places where people tend to give you the space and respect that you deserve as a human being regardless of whether they recognise you for your fame. That civility and politeness does great things for a community."
The celebrity couple raised their two young children, Dylan and Carys, out of the public eye in Bermuda for close to a decade. They relocated to New York City four years ago.
"Hello!" magazine picture of Mr. Douglas and Ms Zeta Jones in Bermuda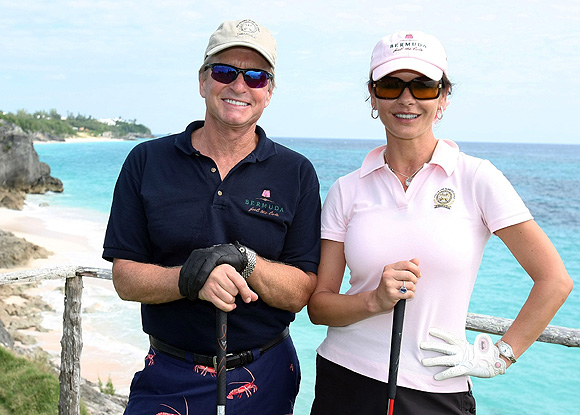 The couple have visited Bermuda occasionally since then. Ms Zeta Jones recently revealed how she compared notes on her current movie role as a ruthless politician's wife New York Mayor and part-time Bermuda resident Michael Bloomberg over a Thanksgiving meal on the island.
Ms Zeta Jones plays the wife of a "corrupt beyond belief" New York Mayor played by Russell Crowe in "Broken City."
During an appearance on "The Late Show with David Letterman" in January, she said she talked about the part with Mr. Bloomberg — who owns a property in Tucker's Town — at Thanksgiving celebrations in Bermuda in 2011.
She told the CBS talk show host: "We had Thanksgiving dinner with Mayor Bloomberg. We went to Bermuda and he asked me about the part. I said 'I am married to the mayor of New York'. This was over turkey and cranberry sauce," she recalled.
Mr. Douglas — a two-time Oscar winner for producing "One Flew Over The Cuckoo's Nest" and acting in "Wall Street" — told "Architectural Digest" the island had been a sanctuary for him throughout his life
"My mother's Bermudian," he said. "Her family's been on the island since 1610, and I've been going all my life. In fact, I celebrated my first birthday here.
"There's real solace in returning to this tiny island where I have so many relatives, probably 70, in one place. To me, Bermuda is a real family spot."
Ms Zeta Jones won an Academy Award for her performance in the 2002 Hollywood movie musical "Chicago" and last year was appointed a Commander of the British Empire by the Queen.
Read More About
Category: All, Entertainment, Films/Movies, News