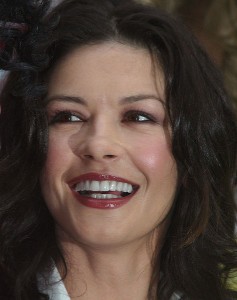 Academy Award-winning actress Catherine Zeta Jones [pictured] has revealed how she compared notes on her current movie role as a ruthless politician's wife  with New York mayor and part-time Bermuda resident Michael Bloomberg over a Thanksgiving meal on the island.
The former Bermuda resident has been busy promoting her new movie "Broken City", in which she plays the wife of a "corrupt beyond belief" New York mayor played by Russell Crowe.
The actress recently discussed the role during an appearance on "The Late Show with David Letterman", saying she talked about the part with New York Mayor Michael Bloomberg — who owns a property in Tucker's Town — at Thanksgiving celebrations in Bermuda in 2011.
She said: "We had Thanksgiving dinner with [New York] Mayor Bloomberg. We went to Bermuda and he asked me about the part. I said 'I am married to the mayor of New York'. This was over turkey and cranberry sauce," she recalled.
Ms Zeta Jones, superstar husband Michael Douglas and their young children lived in Bermuda until 2009 when the family relocated to New York City for personal and professional reasons.
They still visit the island — where Mr. Douglas has strong family connections — on occasion.
Catherine Zeta Jones discusses Bermuda Thanksgiving with Michael Bloomberg on "Late Night With David Letterman"
"I remember summers in Bermuda as a child and the feeling of peacefulness that the natural environment of the island provides — the island air and the beautiful light; the pink beaches; the crystal clear blue-green water; the tropical flora," said two-time Oscar winner Mr. Douglas in his introductory remarks to the recent coffee table book "Bermuda."
"There is also a special feeling of connectedness that comes with being on the island that was my mother's childhood home and our family's home for the past 400 years.
"All of this led Catherine and I back to Bermuda in 2001 to create a home for our children.
"We had some wonderful times in Bermuda with our children. We enjoyed the respect and privacy that Bermudians afforded us. It is one of those rare places where people tend to give you the space and respect that you deserve as a human being regardless of whether they recognise you for your fame. That civility and politeness does great things for a community."
Read More About
Category: All, Entertainment, Films/Movies