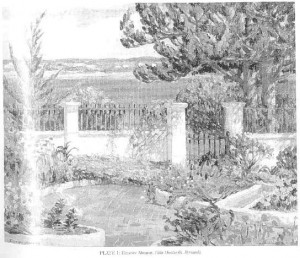 On Tuesday [Feb. 8] Police received a report of an art theft from a Deepwood Drive, Pembroke residence.
A Police spokesman said that it appears that sometime between 10am and 12 noon that day, a painting was removed from the home. The painting is called "Villa Monticello, Bermuda" by the American artist Eleanor Abrams.
Painted at the historic Flatts property in the early 1900s, "Villa Monticello, Bermuda" measures 18 inches by 15 inches.
Police are appealing for anyone with any information on the whereabouts of the "Villa Monticello, Bermuda" painting to contact the Hamilton Criminal Investigation Unit on 295-0011 or the independent confidential Crime Stoppers Bermuda hotline on 800-8477.
Eleanor Abrams [1885-1967] was an impressionist painter born in Butler, Pennsylvania. From a wealthy family, she was one of the original members of the celebrated Philadelphia Ten, a group of female artists who exhibited together from 1917 to 1945.
Ms Abrams specialised in flower still lives and garden scenes, many painted in Bermuda where she often wintered. The bulk of her work was mistakenly dispersed at the sale of her estate in 1982. The scarcity of her paintings makes them much sought after by collectors.
Read More About