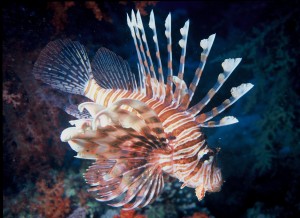 Now Washington, DC is taking a page out of Bermuda's lionfish cook book.
Inspired by Bermuda's "Eat 'Em To Beat 'Em" campaign to add the invasive lionfish to Bermudian restaurant menus, executive chef Xavier Deshayes of the Ronald Reagan Building & International Trade Centre in association with Washington's National Aquarium is going to the Bahamas to capture the venomous fish.
This special excursion, part of the National Aquarium's sustainable seafood dining series, highlights potential ways to reduce the environmental threats posed by this invasive species to the Atlantic, Caribbean and Gulf of Mexico ecosystems through removal programmes including harvesting the lionfish as a seafood delicacy and resource.
Last year the Florida Reef Environmental Education Foundation [REEF] environmental group followed Bermuda's lead, publishing a cookbook of lionfish recipes to raise funds for marine conservation and lionfish research and removal programmes.
Because of its delicate buttery flavor, one of the more promising ways to reduce the threat posed by this invader is through increased usage of lionfish as food. In Bermuda, the"Eat 'em to Beat 'em!" campaign was initiated by the Bermuda Aquarium, Museum & Zoo's lionfish project coordinator Chris Flook who has been trying to make the fish a commercially viable catch for anglers by encouraging restaurants to add it to their menus.
"The only way to make it a self-­running programme without investing a ton of money is to create a commercial fishery. Eat 'em to beat 'em," he has said. "It's an easy fish to catch and it is only ­beneficial to remove them from the ­environment. Take as many as you want. What other fish can you say that about?"
Chris Malpas, head chef at Butterfield Bank, told the "Bermuda Sun" the invasive species is "definitely an eating fish. Once you take the spines out it is very tasty."
And Jean Claude Garzia, head chef at the Beau Rivage restaurant at the Newstead Resort, was another early convert to Mr. Flook's cause.
"The meat is as good as a grouper — light, white, not too strong," he has said . "I would put it on my menu. It could be a main course or an appetizer.
"Probably I would try to give it a Bermuda feel — coat it in coconut and serve it with banana and ­almonds or a mango salsa."
Mr. Flook travelled to the Cayman Islands this month to deliver a presentation aimed at helping that Caribbean territory combat the threat lionfish pose to its coral reef.
Chef Xavier Deshayes' upcoming trip will chronicle the "ocean-to-plate" journey of the lionfish from capture and handling to preparation and serving with Chef Xavier. These events culminate in a series of gala dinners at Washington's National Aquarium.
In addition to the three-course fine dining experiences featuring pan-seared lionfish fillet, Chef Xavier will demonstrate and discuss the culinary uses and preparation of lionfish as well as share insights gained during the trip including meetings with US and Bahamian officials, local chefs and restaurateurs.
The Indo-Pacific Red Lionfish (Pterois volitans) has few native predators in the Atlantic. Consequently, it is now establishing itself along the entire east coast of the United States, as far east as Bermuda and south beyond the Bahamas to the entire Caribbean damaging coral reef habitats.
The National Aquarium in partnership with the National Oceanic and Atmospheric Administration (NOAA) and Key Largo-headquartered REEF are in the forefront of studying this invasion and ways to reduce and mitigate its impacts.
Chris Flook interview courtesy of Alex Scrymgeour
Read More About
Category: All, Environment