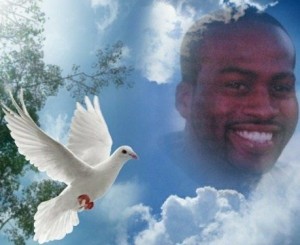 The family of 29-year-old murder victim Colford Ferguson has formed a group which has a clear message to send: "The community has had enough."
Mr Ferguson, whom Police confirmed was not a gang member, was doing construction work when he was murdered at approximately 2pm on February 4th, 2011 in Somerset.
He left behind many devasted friends and family members, including a four-year- old daughter.
The newly-formed organisation is called "Colford's Family Against Violence", and its motto is "Stop the Silence End the Violence."
A member of the family said, "The family of Colford have decided that we as a community need to take a stand and come together to put an end to this senseless violence that is plaguing our small island."
"We are having another candlelight vigil at 7:30pm on Sunday March 13th in Somerset outside the place where Colford was murdered, and we would like to invite any other family who has been affected by this violence whether it be directly or just general people in the community who don't feel safe, to come out and join us."
"We would like to stress that this is a call to end the violence — that the community has had ENOUGH! We encourage all who want to 'take back our streets' to come out for the vigil."
Last month the family hosted a candlelight vigil at Eastshore Road, Sandys, the same area where Mr Ferguson was murdered days prior. The event started with a powerful prayer led by community activist Scott Smith, and ended with a rendition of the Civil Rights anthem 'We Shall Overcome' and 'Amazing Grace.'
The family are also hoping to hold other vigils island-wide in other communities impacted by the gun violence. They have already spoken with the family of James Lawes, who was gunned down on Court Street in March 2010, and are planning a candlelight vigil later this month on Dundonald Street.
The family has asked that family members of other victims to please feel free to contact them, so they can get approval and work together on vigils for their sons/brothers/cousins etc. candlelight vigil. Ms Smith can be contacted  on 296-2128.
Citing the need for the community to remember the devastating impact of widespread gun violence in Bermuda, the family cited the growing number murder victims from recent years including Shaundae Jones, Freddy Maybury, Shaki Crockwell, Jason Lightbourne, Kenwandee Robinson, George Lynch, Jahmiko LeShore, Perry Puckerin, Kumi Harford, Troy Yankee Rawlins, Gary Cann, Kimwandae Walker, Tekle Mallory, Shane Minors,  Aquil Richardson and more.
Anyone with any information regarding any of the murders, is encouraged to contact the Serious Crimes Unit on 295-0011 or the independent confidential Crime Stoppers Bermuda hotline on 800-8477.
Read More About