Citizens Uprooting Racism in Bermuda [CURB] will be hosting a discussion next week Wednesday to address the issue "How Do We, As Black Bermudians, Support, Contribute To, And Perpetuate Racism?"
The discussion will be held at 7.30 pm at The Leopards Club, 12 Brunswick Street, Hamilton. Facilitators will be Dr. Eva Hodgson and Mr. Cordell Riley.
CURB said the discussion will present "a unique opportunity for those blacks who are tired of hearing about black-and-white. This is for blacks only."
Dr. Eva Hodgson said Emancipation was the point at which Bermuda's blacks were supposed to be freed and gain equal citizenship. However, she views the events of 1834 as very destructive for the black psyche, as it was the year when the overt and subtle policies of racism were instituted.
She cited lack of full voting rights, segregationist policies, lack of representation for blacks and the economic dispartities which racial discrimination was designed to impose. Dr. Hodgson said, "Even though three of these matters, have been addressed, the fourth one never has been –and black people are still suffering."
She explained we are all shaped by the same cultural influences, so factors that lead some whites to believe blacks are inferior may have also have impacted on black people as well.
CURB has organised the event specifically for black people. Dr. Hogdson explained if whites were present at the forum, black people may start focussing on their historic contributions to institutionalised racism. Rather, the intent is to highlight racism's pervasive influence on black people's own thinking and self-image.  She said, "If we are going to think about what has been done to us, its better not have white people there to distract the discussion."
Cordell Riley, who will serve as co-facilitator, said the discussion is designed to elicit views from the public, examine the ways blacks treat each other and the lingering impact of internalised racism.
When asked for examples of how this may be impacting on blacks, he referenced the shootings the island is experiencing which involve black men killing other black men,
Mr. Riley said other manifestations which can be seen in some levels include the level of support black people show to support black-owned businesses and the use of derogatory racial terms to one another.
The event next Wednesday is designed to be a discussion rather then a lecture, with the organisers hoping to hear feedback and ideas from those in attendance.
The event is free.
Update: Poster added: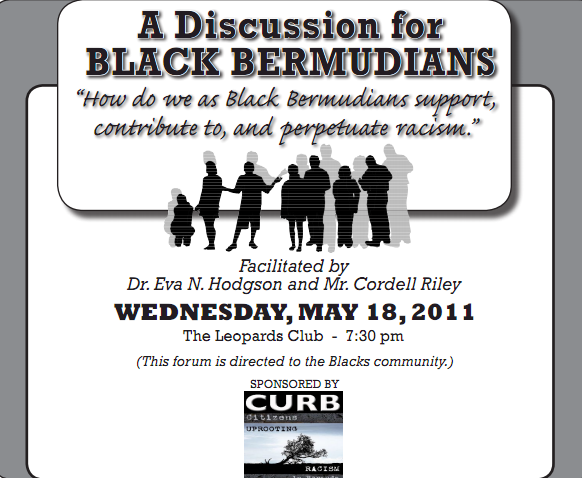 Read More About