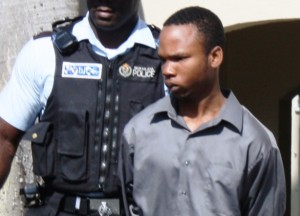 Taking the witness stand in the Kevin Warner murder trial, Dekimo Martin's aunt told the jury that she lived at #8 Peacock Crescent and had known the defendant for about four or five years.
Questioned more closely by Crown Counsel Carrington Mahoney, she said that Mr Warner was a friend of the family and was frequently at the house.
Retelling the story of the night of Mr Martin's death, she said that after she had been home and had taken a bath earlier that afternoon, she went out again and got back home about 6:30pm that evening.
After that, she remained inside the house. She said that shortly after she came back in, Mr Warner came into the house. She recounted: "He saw me but acted strangely….not greeting me in his usual way. He had a strange look. In the past, when Kevin and I met, we would hug. This time he did not."
Questioned further by Crown Counsel about her actions, she replied: "I stayed in the living room for the rest of the night."
Crown Counsel asked her what time she heard shots. The witness replied that she couldn't say when. She said that they came from outside the house.
Earlier, the jury had heard from another witness, who also lived at #8 Peacock Crescent and who was present on the night of Mr Martin's death, that after she had put her young son to bed, she had returned to the living room where her father was massaging her mother's feet.
The witness said that she could hear voices coming from outside the house and that she knew that one of the voices was Kevin Warner's. Pressed by Defence Attorney Kim Hollis QC, she said that she had known Mr Warner all her life and just knew his voice. She said that these voices moved from one side of the house to an area nearer the bathroom window, but still outside the house.
Re-examined by Crown Counsel Mahoney, she was asked if Mr Martin and the accused had lived together. She said: "It wasn't a house, it was like a clubhouse, a hangout, like a pumproom, like an abandoned house. They were friends who would hang out together. I wouldn't say they were living there. I don't know why they did it."
Rejecting any idea that she was being difficult, and continuing her response, she said: "It's not the first person lost in our family."
Asked by Crown Counsel if she had discussed her evidence with anyone, and was collaborating with others in providing evidence, she denied all that. She said that she had certainly talked with her family about what had happened but had not and was not working with anybody else in giving evidence.
Mr Warner is alleged to have murdered 24-year-old Dekimo "Purple" Martin on May 28th, 2010. The two men were well known to each other and said to be friends. Mr Warner turned himself in shortly after the murder, and was subsequently arrested. On June 1, 2010 he was charged.
Mr Warner, represented by Kim Hollis QC and Elizabeth Christopher, has pleaded not guilty.
The case continues…
[File photo]
Read More About
Category: All, Court Reports, Crime, News