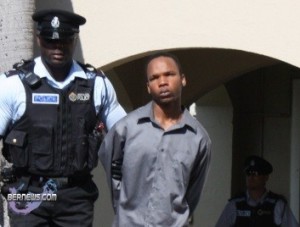 In the ongoing murder trial, expert witness Allison Murtha of R J Lee Group, USA came into the witness stand to give evidence today [May 12].
She followed after statements from a Policeman who had been involved in the initial arrest of the defendant Kevin Warner and in collecting a white Suzuki motorcycle said to be owned by him.
Ms Murtha took to the stand after a lengthy session of legal arguments that took place in the absence of the jury and that cannot be reported.
Confirming that Ms Murtha was a forensic scientist with at least three years fulltime experience, and establishing her expertise as a Gun Shot Residue [GSR] witness, Crown Counsel Carrington Mahoney questioned her. Ms Murtha said that GSR was made up of three elements that had fused together.
These were Barium [chemical symbol Ba], Antimony [Sb] and Lead [Pb]. Her evidence was that when all three elements were flound in one particle, that particle was said to be characteristic of the residue resulting from a gunshot.
Crown Counsel displayed a picture of a jacket said to have been worn by Mr Martin on the night of his death. Ms Murtha continued giving evidence and said that the jacket had three holes and that her forensic analysis indicated that the holes had been made by bullets. Describing further, she said that when a firearm discharged, particles in the muzzle blast contained nitrites that reacted in certain ways to test chemicals and other tests.
Continuing, Ms Murtha said that as a result of her several analyses, she had concluded – and she used her hands to illustrate – that the muzzle of the firearm had been within three feet of the jacket shown.
With that the Crown Counsel stood down and Ms Elizabeth Christopher, co-counsel with Kim Hollis QC, began her cross-examination. Ms Christopher's cross-examination concentrated on the chemical make-up of the particles offered as Ms Murtha's principal evidence; paying particular attention to the presence of sulphur [S].
The trial of 21-year-old Kevin Andre Warner started on May 9th in the Supreme Court. Mr Warner is alleged to have murdered 24-year-old Dekimo "Purple" Martin on May 28th, 2010. The two men were well known to each other and said to be friends. Mr Warner has pleaded not guilty.
The trial continues
Read More About
Category: All, Court Reports, Crime, News