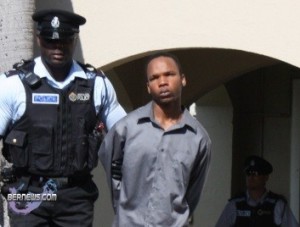 At 3:00pm today [May 17], the Crown ended its presentation of evidence in its case against Kevin Warner who is charged with the murder of Dekimo Martin.
The full charge was then read out, again, to Mr Warner. He was asked if he would go into the witness box and offer evidence in his defence. He answered that he would not.
Asked if would offer witnesses to speak on his behalf, his defence attorney QC Kim Hollis indicated that, on Kevin Warner's behalf, she would not be calling any witnesses.
With that, the trial rapidly moved into its end stage. Five minutes later, Justice Carlyle Greaves released the jury for the rest of the day, telling them to be back in the morning to hear the Crown and Defence as they made their arguments; after which they would hear his summation and then they would be positioned to complete the task for which they had been empaneled.
During today's giving of evidence, the Crown had presented a number of witnesses who gave evidence of some of the human relationships between the victim Dekimo Martin and his friends, and about Kevin Warner, the accused.
Evidence was read in from a young lady who described herself as Mr Martin's girlfriend. She said that she first met him while he was still in prison, and had then gone on to form a stronger relationship after his release.
In evidence she said that he often spoke of being chased or wanted by certain people. One person named was a man called 'Rasheed'.
Before that, the Jury heard heard from a woman, Ms Inez Dill, who was seen as the defendant's "adopted mother". Ms Dill told the court of receiving a call from Mr Warner on the evening following Mr Martin's murder. She said that when she was speaking with Mr Warner he seemed upset and confused.
In evidence, she said he told her that he was the last to see his friend Dekimo Martin alive. She continued, saying that Mr Warner had told her that he left the victim's home on Peacock Crescent, in Somerset, before the shooting.
Ms Dill said that he was upset and indicated that he wanted to turn himself in as a witness to let the Police know that he had been there.
Mr Martin told her that people thought that he had murdered his friend just because he hadn't been in contact with anyone during that day. Ms Dill told the jury: "He just wanted to clear himself".
The presentation of their cases by the Crown and the Defence will likely occupy most of Wednesday. Justice Greaves' summation will likely require some preparation before its delivery. Because of these facts, this case could to go to the Jury as early as late Wednesday afternoon, or before noon on Thursday.
Read More About
Category: All, Court Reports, Crime