ACE Group, HSBC Bermuda, and Deloitte today [June 6] announced the launch of the ninth annual Summer Internship Program [SIP].
This year 12 more Bermudians join the ranks of the 100 students who have benefitted from the program over the past eight years. The 10-week internship program offers students a valuable work experience opportunity that encompasses Bermuda's insurance, financial and accounting industries.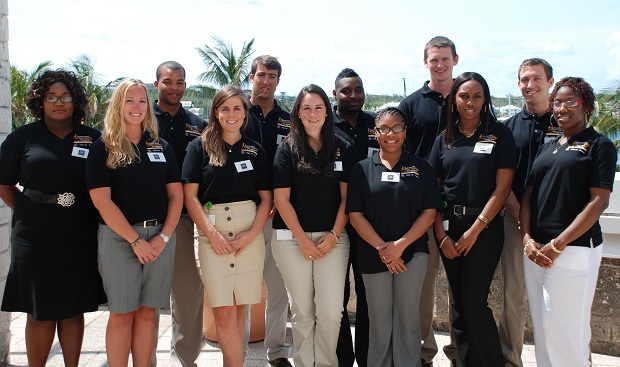 The SIP continues to attract the most promising university students, providing them with a demanding yet rewarding experience. Students have the opportunity to gain practical knowledge of Bermuda's international business sector, develop skills and business acumen, and acquire the information they need to help them to make important career decisions.
During the 10-week program, students will work at each of the three companies. At ACE, the students will focus on insurance and reinsurance, at HSBC Bermuda on finance and risk management, and at Deloitte on assurance and accounting. The SIP runs from 6 June – 12 August 2011.
In addition to the business component, the SIP promotes good corporate citizenship through a community service project. The project is designed to provide the students with a hands-on learning experience as well as develop and strengthen their team building and leadership skills.
This year the SIP has selected the following two community projects: Teen Services and Eliza DoLittle Society's Feeding Programme – Daily Bread. Six students will be assigned to each project and will take it from conception to implementation. Both teams will present final reports and recommendations to the project stakeholders at the end of the SIP in August.
The first team of students assigned to Teen Services will work on a project called "Empowering Bermuda's Young Mothers." The interns will develop a marketing plan that will help teen mothers voice the issues that affect them, increasing community awareness on the need to support these young women.
The second team will be assigned to Eliza DoLittle Society's project called "Food Raising to Reduce Food Waste". This project involves the development of a marketing plan to make restaurants, supermarkets, and the general public comfortable about donating leftovers, or recently expired goods. The students will make recommendations towards the establishment of a new government act outlining the legal implications of giving and receiving food.
Out of 28 applicants for the 2011 SIP, 12 students were selected from disciplines including accounting, finance, sciences, chemistry, marketing, and social sciences.
The 2011 SIP participants are:
1. Jonathan Bath Queen's University
2. James Chiappa College of Charleston
3. Jubilee-Ann Edness St. John's University
4. Charis Haynes Concordia University
5. Christine Jack Queen's University
6. Jennifer Looby Bermuda College/University of Kent LLB
7. Anna Mackenzie University of Edinburgh
8. Sonia Minors Rollins College
9. Carolyn O'Shea Stetson University
10. Teron Ratteray University of Western Ontario
11. Matthew Sinclair The College of William and Mary
12. Milton Stephens Wilfrid Laurier University
Samantha Froud, Chief Administration Officer, Bermuda Operations of ACE said, "The SIP Program is one of the best the island has to offer. The knowledge these students gain from the program will help them enhance their skills and prepare them for a successful career. We are delighted to be a part of their career development and congratulate these students on their wise choice in applying for this valuable internship."
Yolanda Outerbridge, Head of Human Resources at HSBC Bermuda stated, "Over the years, we have had the opportunity to welcome a number of SIP alumni back to HSBC Bermuda as full time employees. We are confident that this year's crop of interns will showcase a wealth of talent to be harvested in the future. This summer will present an unparalleled learning experience for these 12 bright and driven Bermudian students, and we are excited to be a part of their path toward success."
Mark Baumgartner, Principal, Deloitte said, "Since the inception of the SIP program in 2003, we have been fortunate to have over 100 Bermudian interns pass through our doors bringing with them enthusiasm, drive and a desire to learn. These students complete the program with so much more – an understanding of each industry, tools for professional success, new friendships, and relationships with staff of all levels at Deloitte, ACE and HSBC Bermuda. Through the community service project, the students will experience our authentic desire to make meaningful social impact in our community. Deloitte is pleased to support our 2011 interns as they develop the core competencies necessary to become impactful additions to the business community and our island."
Vivlyn Cooper, Board Chair of Teen Services stated, "Being chosen for this year's Summer Internship Program has come at a perfect time for us. After recently undergoing a strategic planning process, the interns will help Teen Services by creating a marketing plan that helps increase buy-in into some very specific goals and programs. Our overall goal is to empower teens and youth in Bermuda, particularly at-risk girls."
Margaret Ward, Executive Director of Eliza DoLittle Society's Daily Bread, stated "I am very excited about this opportunity! As a small charity, having access to resources such as the SIP interns is very useful and appreciated. With the interns' help, we hope to create a marketing plan that will increase the public's awareness on safe ways that we can reduce the amount of prepared food, cans, and boxed goods that are disposed of daily. By fine-tuning this process we will make such food available to those in need."
Read More About