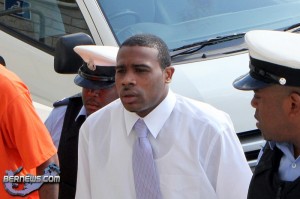 The six week long trial of Jahkeil Samuels, 27, Jamin Saltus, 22, Ronniko Burchall, 24, and Alex Vanderpool, 22, came to an end yesterday [July 4] with all four men being found not guilty.
The first not guilty verdict came in on Vanderpool just after 4:00pm, and the second set of not guilty verdicts came in just before 6:00pm on Samuels, Saltus, and Burchall [pictured/file photo]
As the men left the Court room, their supporters expressed obvious relief with the verdict, and some were hugging the men as they walked out.
Three had been accused of conspiring to shoot another person with intent to do grievous bodily harm and with handling a firearm, while Vanderpool faced the single charge of handling a firearm.
The trial dealt with incidents occurring on February 29th 2012 when a man was shot outside a house on Mission Lane in Pembroke. The victim was shot in his lower back area and had to undergo surgery.
Read More About
Category: All, Court Reports, Crime, News