[Updated] Police officers started a murder investigation today [Sept.2] after a woman was found dead in a residence on Berry Hill Road in Paget.
The house has been blocked off with crime scene tape, and the forensic unit and both uniformed and plainclothes officers have been seen on the property.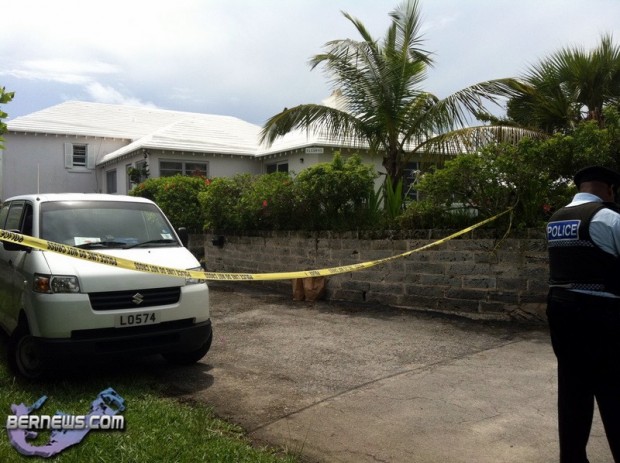 A police spokesperson said, "Detectives from the Bermuda Police Service Serious Crime Unit are investigating the death of a woman at a residence on Berry Hill Road, Paget.
"At about 8:30am this morning, an off duty police officer was flagged down by a member of the public, and alerted to the presence of an unresponsive female inside a residence.
"Assistance was immediately sought, and EMTs from King Edward VII Memorial Hospital and an on call doctor attended the residence. Death was certified by the on call doctor at the scene.
"Officers from the Serious Crime Unit are investigating this as a case of Murder. No details of the victim will be released until the next of kin have all been notified.
"However, detectives are interested in hearing from any members of the public that may have seen anyone or anything out of the ordinary on Berry Hill Road, Paget, or its environs, between 4:00pm on Thursday 1st September, 2011 and 8:30am today.
"Detectives are particularly interested in speaking with any person who may have seen anyone in the area under suspicious circumstances.
"The investigative team is being headed by Detective Inspector Jerome Laws, and he can be contacted at (441) 247-1265. Alternatively, members of the public can leave information anonymously on the independent Crime Stoppers hotline at 800-8477."
Update 4:00pm: Police remain on scene, and were seen going door to door. The victim is said to be an lady in her mid sixties.
Update 6:15pm: Police added an additional appeal: "Detectives are keen to hear from anyone who has witnessed someone acting out of character, who became furtive or was attempting to dispose of any clothing or articles, to come forward."
Update Sept.3: A 53-year-old man was arrested in connection with the murder of 66-year-old Ida James. Details here.
Read More About