[Updated with video] Norris Simpson has been found guilty of the murder of Ida James, with the jury returning a majority verdict just before 5.00pm today [Feb 1].
Simpson's trial began last month in the Supreme Court, with the 54-year-old charged with murdering Ms James, who was found dead at her Berry Hill Road home in Paget in September 2011.
Simpson has been covering his face while walking to and from Court each day: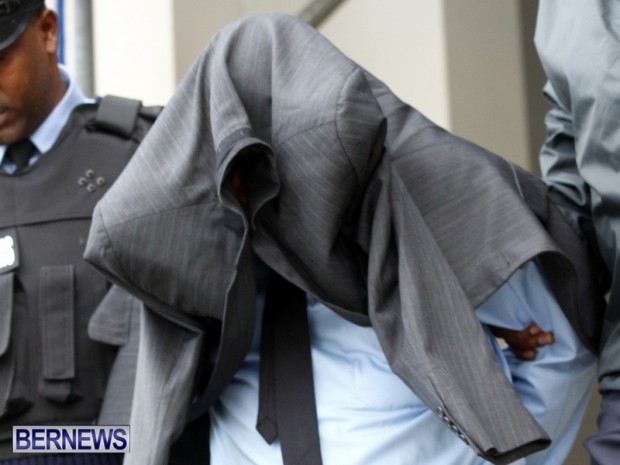 Simpson was arrested later that month, and charged with murdering the 66-year-old former social worker. He had rented a room from her at a North Shore property she owned, and was behind on his rent.
During the trial the Court heard she was stabbed some 60 times, and also heard that Ms James DNA was found under Simpson's fingernails, and he was covered in cuts and abrasions.
Simpson will be sentenced at a later date, and is due to re-appear in Court during the next monthly Arraignment Session.
Simpson leaving Court this afternoon, continuing to cover his face:
Speaking outside the Supreme Court today, Detective Chief Inspector Nicholas Pedro said the Bermuda Police Service welcome the verdict, while noting is important to recall the family of Ms James are grieving at this time.
"This was a very brutal and viscous crime. We heard evidence she was stabbed over 60 times in her own home. Our thoughts go out to her family and friends."
Audio of Detective Pedro:
"We welcome the verdict of the jury," said Detective Pedro. This was a hard fought case, by both the defense and the Crown and we believe the jury have returned a just verdict."
Simpson — who was found guilty by a 10-2 verdict — displayed no emotion when the sentence was read out.
Read More About
Category: All, Court Reports, Crime, News