Bermuda's landscapes and seascapes have inspired artists ranging from Winslow Homer to Georgia O'Keefe.
And now Bermudian art historian Jonathan Land Evans has just published the first two volumes of his art history trilogy "Bermuda in Painted Representation: A Survey Of How (And By Whom) Bermuda has been Depicted In Art" in a special text-only preview edition.
There are only 12 sets, six of which have been donated to Bermuda recipients, including institutional collections and two copies for the Bermuda National Library.
"The trilogy will eventually see the light of day in a fully-illustrated form, but I wanted to make some of the fruits of my years of research available to the public now, rather than keeping people waiting," said Mr. Evans.
"These first two volumes — "The Garrison Era" and "The Cosmopolitan Era" — cover over a thousand artists, and go up to about 1953. The third volume — "The Bermudian Era" — is already substantially written, but is still a work in progress. It goes up to about 2000."
Winslow Homer's "Flower Garden & Bungalow, Bermuda", 1899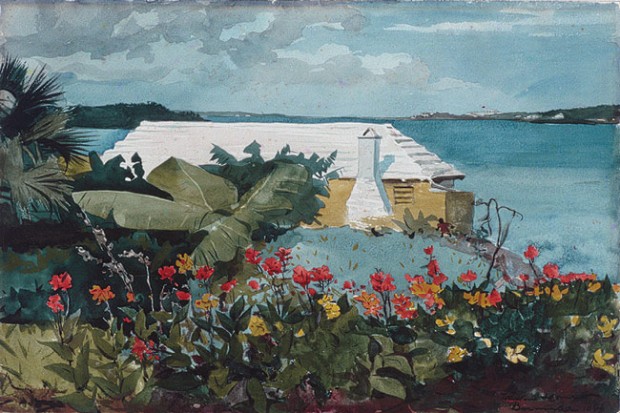 Mr. Evans believes the preview editions of his first two books will be of considerable value to those with a serious interest in the twin subjects of Bermuda in art and artists in Bermuda.
"They will also be very useful for those seeking a comprehensive source-book for early historical images of Bermuda," he said. "The books are carefully indexed and extensively footnoted, and may also be viewed as an amplification of my previously-published two-volume 'Encyclopedia of Bermuda Artists' (2009/2010)."
Another book of Mr. Evans', "Old Bermuda Maps: A Cartographic History And Collector's Guide For The Somers or Summer Islands, 1511-1948″, is to be published in 2012 by the National Museum of Bermuda/Bermuda Maritime Museum Press.
Mr. Evans has also penned numerous scholarly articles for publications of the National Museum of Bermuda/Bermuda Maritime Museum in recent years, including papers on Bermuda's military, artistic and literary history for the annual "Bermuda Journal of Archeology and Maritime History."
Winslow Homer's "Salt Kettle, Bermuda", 1899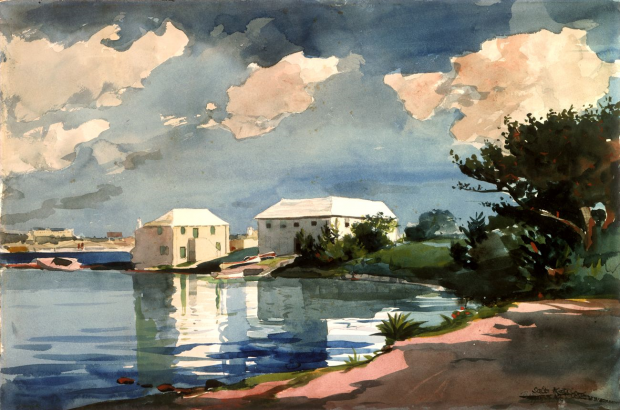 He has also written two series of articles on Bermuda art history for "The Mid-Ocean News" and "The Bermudian."
Mr. Evans is a Bermudian lawyer, writer and historian, with an academic background in international relations and international economics; educated at Saltus Grammar School, the Johns Hopkins University in Baltimore, the School of Advanced International Studies (SAIS) in Washington DC, and University College, London University.
Read More About
Category: All, Entertainment, History