[Updated] Officials have confirmed there will be a Parliamentary swearing-in ceremony this morning [Nov.2] at 11:30am at Government House, although there was no indication as to who will be taking oaths of office.
Update 11.28am: The ceremony has not yet begun, however numerous people are present at Government House.
Update 11.37am: Cabinet Changes announced thus far:
Derrick Burgess has moved to Transport
Walter Roban has been been switched to Public Works
Patrice Minors has moved to Ministry of Economy, Trade & Industry
Michael Scott has moved to the Ministry of Government Estates.
Kim Wilson is the new Attorney General
Update 11.47am: Both Terry Lister and Neletha Butterfield are now out of Cabinet and there are two new Cabinet Ministers; Marc Bean [below left] is the new Minister of the Environment, Planning & Infrastructure; while Wayne Furbert [below right] is the new Minister of Tourism and Business.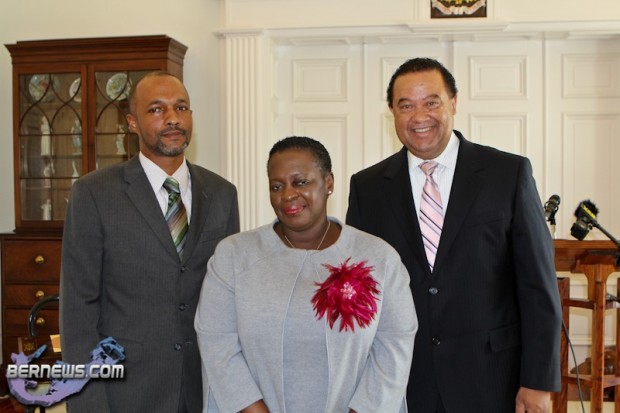 Update 11.52am: Retaining their current Cabinet positions are Health Minister Zane Desilva, Community Development Minister Michael Weeks, National Security Minister Wayne Perinchief, Minister of Youth, Families & Sport Glenn Blakeney and Education Minister Dame Jennifer Smith. Premier Paula Cox also retains the Finance portfolio.
Update 11.58am: Summary: Ministers moved to new portfolios in the Premier's Cabinet reshuffle were: Derrick Burgess from Public Works to Transport; Walter Roban from the Environment Ministry to Public Works; Kim Wilson from the Ministry of Economy, Trade & Industry to the position of Attorney General and Minister of Justice; Patrice Minors from Business Development & Tourism to Economy, Trade & Industry and Michael Scott from the position of Attorney General to the Minister for Government Estates & Information Services.
Former UBP leader Wayne Furbert — who crossed the floor of the House of Assembly and joined the PLP last year — has his first Cabinet appointment under the current Government as Minister of Business Development and Tourism. And recently elected MP Marc Bean — who won former Premier Dr. Ewart Brown's Warwick constituency when he retired from the House of Assembly — is the new Environment, Planning & Infrastructure Strategy Minister.
Update 1.12pm: Video of the Premier announcing the changes:
Update 1.40pm: Swearing in of the two new Ministers – Marc Bean and Wayne Furbert:
Update 1.55pm: Minister Marc Bean said, "I would like to thank Madame Premier for having the confidence in me to serve in her Cabinet. I would also like to thank my family."
"I feel that we are living in perilous times, and I think my role is to be part of a Cabinet which can help us safely navigate these uncharted waters. And so I am going to do my part to encourage us as a Government to change course. And not for short term gain, but for long term benefits for the country."
Update 2.00pm: Minister Wayne Furbert said, "It's a lot of hard work. We realize the job that is before us. I will be talking to former Minister – Minister Patrice Minors – I would to like to first of all thank her. I have seen quite a few Ministers in another hat also, and I would like to thank the Minister for her job."
"But we realize the responsibility before us, the responsibility in tourism, our responsibility to move Bermuda forward. I am praying that all of you will give me time, let me get out there. Let me get back to work, let me get some work done at the Ministry before you ask me real hard questions."
Read More About