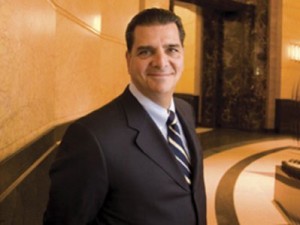 Bermuda bond insurer Assured Guaranty Municipal, which backed the debt driving Harrisburg, Pennsylvania, into insolvency, hired a lobbying firm to help prevent the cash-strapped US city declaring bankruptcy.
The Hamilton, Bermuda, bond insurer [CEO Dominic Frederico is pictured here], which was on the hook for $194.7 million, last December hired a lobbying firm in Pennsylvania for the first time, according to state records.
The Bloomberg financial news service reports today [Dec.19] that Greenlee Partners met privately with lawmakers and Republican Governor Tom Corbett.
"Legislators [later] empowered Corbett to name a financial receiver and prohibited the city from filing for bankruptcy," said Bloomberg.
Harrisburg, a city of 49,500 where 29 percent live below the poverty line, has no lobbyist.
"There was no one advocating for the city of Harrisburg," said city councilman Brad Koplinski. "The city did feel outgunned."
Bloomberg said as local governments in the US attempt to cope with five years of declining revenue, according to the National League of Cities, insurers who back their debt aim are increasingly aiming to contain losses.
Defaults in the $3.7 trillion municipal-bond market totalled a record $24.6 billion in 2011, according to Richard Lehmann, publisher of the Distressed Debt Securities Newsletter.
Read More About