Conservation officer Jeremy Madeiros says with continued protection and management, the future now looks bright for the Bermuda Longtail — the island's traditional herald of spring.
Writing in the Bermuda Audubon Society's winter newsletter, he says a longterm artificial nest programme has helped to boost numbers of the Bermuda Longtail — or White-tailed Tropicbird as it is correctly known — to between 2,500 and 3,000 breeding pairs.
"The Longtail is one of Bermuda's best-known and most-loved bird species," he said. "Long considered to be the first harbinger of spring and foretelling of warmer weather to come, the first sighting of a Longtail is an event that is always recorded in the local newspapers.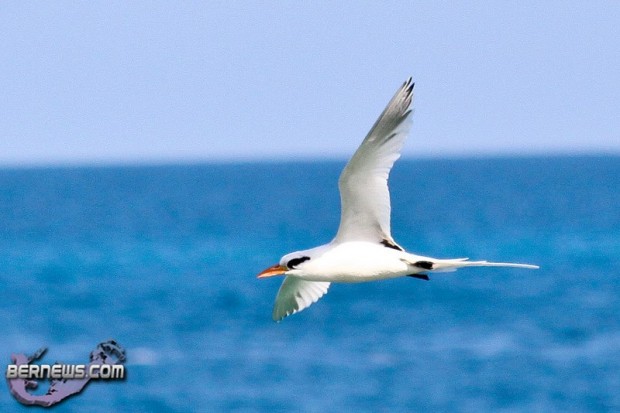 "It was also long considered to be Bermuda"s unofficial National Bird, although that honour was officially given to the endemic and critically endangered Cahow, or Bermuda Petrel Pterodroma cahow in 2003."
The Tropicbird is a beautiful, black and white seabird with a wingspan of just over three feet which can be found in subtropical seas in the Atlantic, Indian and Pacific Oceans.
Its most distinguishing features are the two incredibly long central tail feathers which provide the bird with its unofficial name –feathers longer than the rest of its.
"The North Atlantic contains a distinct sub-species, Phaethon lepturus catsbyi, which only nests in Bermuda, the Caribbean and islands off the northern coast of South America," he said. "The Bermuda population of about 2500-3000 nesting pairs is very important as it represents about half of the entire population of this subspecies.
"This means that Bermuda's tropicbirds are not only important to the local environment, but are of international significance."
Mr. Madeiros said until recently it had been suspected Bermuda's breeding population was declining.
"Conservation officer David Wingate first monitored a number of Tropicbird nest sites on the Castle Harbour Islands from the 1960s to the 1980s to determine the breeding success of the species," he said. "Head aquarist at the Bermuda Aquarium, Museum & Zoo Patrick Talbot restarted this survey monitoring nests in the same area from 2000-2003 as part of his master's thesis.
"Because of the importance of Bermuda"s nesting population and the need to know more about the present status of the species on the island, I took over study of the population in 2005 to gain more information on current levels of breeding success and possible threats to the species, and determine ways of protecting and assisting the Tropicbird on Bermuda."
Mr. Madeiros said one of the objectives of this study was to compare the breeding success of Topicbirds nesting in artificial nests installed at the study locations, compared to that of birds nesting in natural rock cavities.
Footage of Longtail off Astwood Cove, music by by CR@E off the "Green Mile" mixtape:
"This is important for confirming whether this is an effective method of addressing impacts on the nesting population caused by the loss of hundreds of natural nests from recent hurricane impacts," he said.
As of 2011, a total of 96 artificial nests have been installed at seven of survey locations — Long Rock, Inner Pear Rock, Green Island, Nonsuch Island, Horn Rock, Southampton Island, and Shelly Bay.
Out of these 96 nests, a total of 69 had nesting activity recorded during the 2011 nesting season, of which 55 produced successfully fledging chicks.
"This represents 79.7 percent breeding success with the artificial nests," he said. "In comparison, in 2011 there were a total of 143 natural nests with nesting activity, of which 99 produced successfully fledged chicks, representing 69.2 percent breeding success.
"The artificial nest sites therefore experienced 10.5 percent higher breeding success than the natural sites, a significant figure that confirms previous results from 2006 – 2008.
Mr. Madeiros said these results illustrate that the programme of artificial nest installation has already been a success in maintaining and increasing the numbers of breeding pairs and fledged chicks and that it should be continued and, where appropriate, expanded.
"This technique also has potential application in other locations where White-tailed Tropicbirds nest, especially in the Caribbean where this species has been confirmed as declining in numbers at many known nesting locations," he said.
Based on these results, Mr. Madeiros said the Longtail is enjoying a high breeding success on Bermuda, both at managed and unmanaged locations.
He added, however, that ongoing measures were necessary to ensure the species continues to thrive in Bermuda.
"It is … subject to a number of threats on the island, of which the most serious is a shortage of suitable nest sites due to storm erosion and coastal development," he said. "Predation by introduced mammal and bird predators such as Crows, rats, dogs and cats is also a threat, as is nest-site competition by feral Pigeons.
"On the other hand, artificial nests when correctly installed have been proven to be effective in counteracting losses of nests from hurricanes and hold great promise if more widely used."
Conservation Officer Jeremy Madeiros with Longtail Chick:
Read More About
Category: All, Environment