On Saturday 16th February, Trevor Rawson, Trunk Island Officer, spotted 4 holes along the coast of Trunk Island occupied with longtails, as well as 6 different longtails courting in the air above the island. These sightings were the first to be spotted by Bermuda Zoological Society [BZS] staff in Harrington Sound this season.
"I've been anticipating the longtail's arrival for the past few weeks, so I knew to keep an eye out," said Trevor. "On Saturday morning, from a distance, I spotted the distinctive Longtail flight patterns over Trunk Island. Sure enough when I reached the island, longtails were courting overhead. Upon further observation, I was pleased to see a few sets of white tails sticking out of their nesting sites on Trunk."
Two longtails nesting on Trunk Island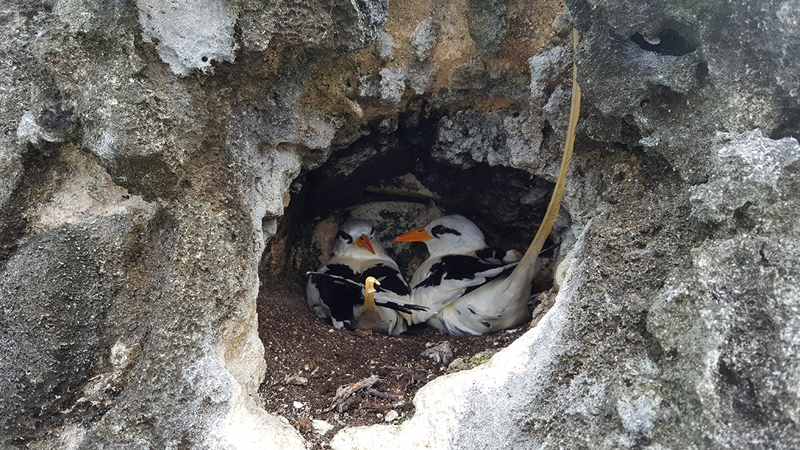 A spokesperson said, "Longtails first arrive in Bermuda between late February and the end of March and pairs of birds can be seen in aerial courtship throughout Spring. At the end of April and beginning of May a single egg is laid in the nest cavity.
"The egg is incubated in turn by both parents for 42 days with most hatching in June or July. The parents return to the nest over the course of the summer with squid and small fish for the growing chick. The chicks fledge [grow flight feathers] and depart in late August and September.
"For the past four summers, 12-13 year old students taking part in the residential conservationist camp on Trunk Island have been installing 2-3 longtail igloos on the island, to provide nesting areas for the returning birds. Many of these students later became BZS Junior Volunteers [JVs].
Kacey McGowan on the far left, cementing longtail igloos on Trunk Island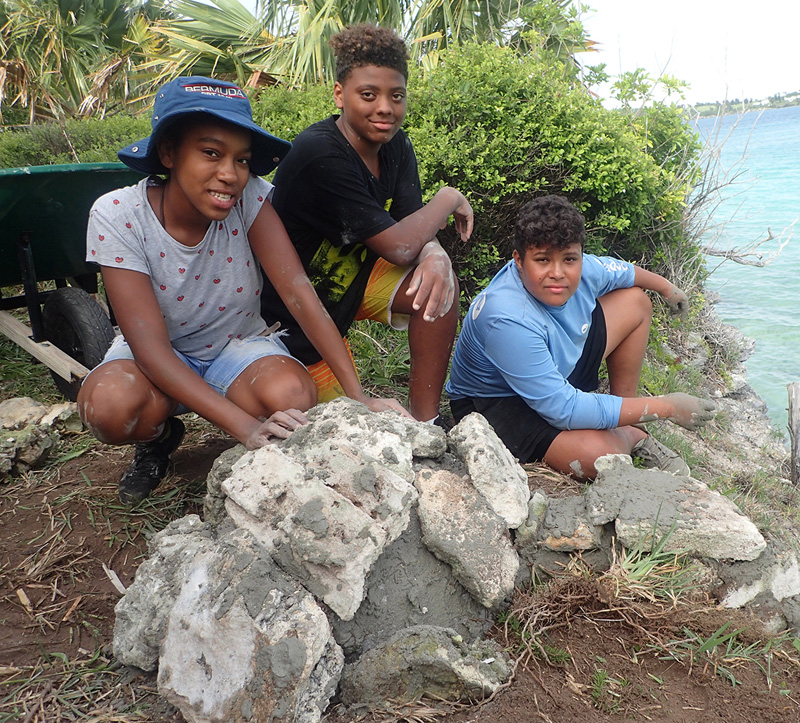 "The BZS reached out to a few of our past conservationists to ask about their experiences with building the longtail igloos."
Cedarbridge Academy student, Kacey McGowan, was a conservationist in 2018 and is currently a JV said, "Making the Longtail igloos was a lot of fun. It was my first time working with cement and it was interesting putting the igloos together. Knowing the Longtails are starting to live in the igloos makes it all worthwhile. I'm glad that I can contribute, even if it's a little bit, to Bermuda's natural habitats."
Saltus Grammar School student, Jordan Davies, was a conservationist in the summer of 2016, became a JV in September of that same year and is now a junior staff member at BAMZ said, "The experience of installing igloos was phenomenal and I enjoyed it so much.
"Especially being able to work with Dr Wingate and getting to be there right next to him helping install these homes for these amazing birds. As amazing as it was, it is even better to go back and see that the longtails are living in the igloos that we installed. It really is a great feeling and I am so happy that I had the opportunity to do help the longtails.
Jordan Davies cementing longtail igloos with Dr. David Wingate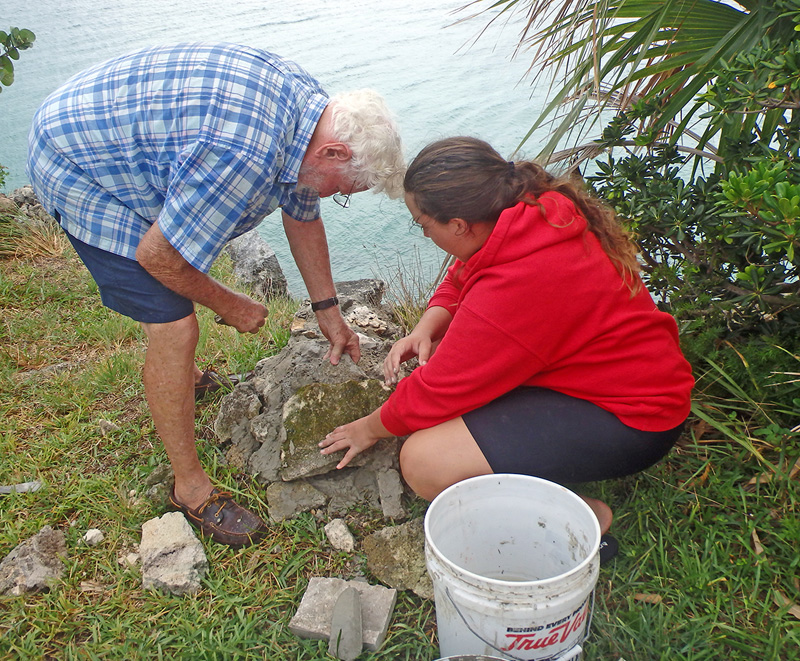 "Our Trunk Island legacy project continues to advance and meet our shared mission of the Bermuda Aquarium, Museum & Zoo and the Bermuda Zoological Society: 'To inspire appreciation and care of island environments,'" said Colin Brown, President of the Bermuda Zoological Society. "Our Living Classroom use continues to increase and evolve and is a tremendous asset for the community."
To learn more about Trunk Island, register your children for this year's Aqua Camps, or to volunteer and get involved, please visit our website at www.bzs.bm.

Read More About
Category: All, Environment, News